How to make Easter Chicks

12 Apr 2011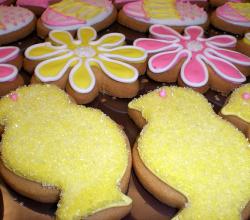 Easter chicks and eggs are closely associated with the Easter fun. They symbolize the fertility and rebirth. It is said that an Easter chick cracking out of an egg shows the resurrection of Jesus from the tomb.  Easter chicks have been a tradition and now become a favourite Easter food.
Easter chicks are made in lot of ways like they are baked, non bake types, cookie, biscuits, dinner rolls and many more. These chicks are not only fun food but also do the decorations. Beautifully decorated and colourful chicks on an Easter table make food much more appealing.
One of the interesting ways to make Easter chick is to shape your sweet dinner rolls into chicks and serve them. Kids will love them and so will the adults. If you are planning to make cookies, shape them like chicks with the cookie cutter. These cookies are very easy to make, sand some sugar over them and next day add an eye with chocolate and a beak with almond to the cookie.  Or you could make Easter fairy cup cakes with chicks sitting on them.  Or just decorate your cup cake with yellow feathers and black eyes. Some Easter eggs spread around them.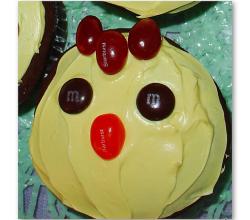 Another great idea to present your Easter chick can be placing chicks made on cupcakes on a platter with one of the chicks cracking out of the egg.  Also, try making the soft marshmallow chicks with different flavours.
One of the easiest ways is to make the chocolate Easter chicks. Just melt the chocolate and mould it in cookie cutter to get the right shape. Do the remaining decoration-give the chick eyes and feathers and it is ready to go in the Easter basket.
These are the homemade recipes, you can also try making the paper Easter chicks and decorate your Easter basket. You can make origami, or use any other paper craft to make these beautiful paper chicks. Color or paint them to make them look prettier. The best part of the paper Easter chicks is that you can involve your kids into making these and a part of the preparation  of Easter. 
Easter chicks can be just the thing to make your Easter food look beautiful and colourful. Using then in the easter basket will give an exotic look to the entire festival.
Image Credits: Ifood.tv/images 
How To Make Easter Chicks