Easter Ham Menu

5 Apr 2011
Ham is the mainstay of Easter festivities. Reviving the tradition of classic ham dishes, here are some Easter ham menu ideas you can chart to entreat your family and friends.

 
Easter Ham menu ideas
Needless to say that irrespective of different cultural beliefs, Easter marks revival of the good, the victory of good over evil, and the Easter ham menu, we discuss will coronate the essence of the festival.
Easter Ham Menu 1
•    Appetizer
The creamy Bagna Cauda: This Italian appetizer in make of chopped, flat anchovy fillets, cayenne pepper, French bread, heavy cream, garlic, cayenne pepper and chopped fresh parsley to garnish is an appetizing way to plunge into the Easter dinner.
•    Main
Glazed ham: With apricot jam, whole grain mustard, maple syrup, sherry, lime juice, freshly ground pepper(these ingredients to make the glaze), smoked leg ham(skinless and trimmed of excess fat), the ham in bake with the home-made glaze will be a topping treat for Easter.
•    Sides
Mashed potatoes in Garlic: With peeled chopped russet potatoes, cloves of garlic, butter, sour cream, heavy cream with salt to taste and pepper to pep it up makes a great side for Ham.
•    Salads
Provencal orange and honey: Fruits salads make a great combo with ham, which are a bit salty by nature. With oranges, honey, lemons zest and juice and olive oil for drizzling the salad topped by basil and parsley chiffonade is a fruity treat.
•    Dessert
Chocolate Hazelnut swirl cheese cake: Cheese, chocolates, hazelnuts and the swirl with the batter, the cake is a topping way to complete a Easter Ham menu.
Easter Ham Menu 2
•    Main
The crockpot Ham: If you want to give your Easter ham menu item the 'slow 'n' steady treatment of a crockpot, then this recipe will be the ideal pick. With precooked ham, dark brown sugar, thin slices of orange and lemon, ginger ale, the ham derives the zest of citrus to juice up as an Easter ham menu.
•    Side
Green beans with toasted hazelnuts: Green beans tossed in melted butter and rice vinegar, seasoned with ground black pepper and coarse salt and, sprinkled with toasted hazelnuts make a great side dish for the ham.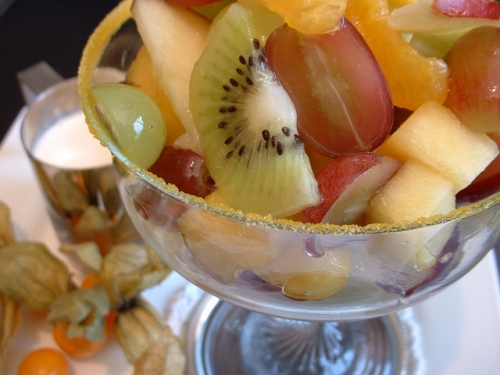 •    Salad
Fresh fruit salad: Made of fresh fruits(apples, cantaloupes, peaches, pears etc) available for the season, cut into bite-size pieces tossed in a  banana fruit salad dressing(made of one ripe banana mashed, mixed with honey  and granulated sugar), best complements the main in your Easter Ham menu.
•    Dessert
The Italian Easter pie: Give the finishing touch to your Easter dinner with the Italian Easter pie. Unbleached white flour and olive oil for the pie dough; for the filling, you have spinach, silver beet, butter, oil, onion, grated parmesan cheese, ricotta cheese, garlic clove, chopped fresh marjoram with salt and pepper mixed in a proportion to give an exotic flavor as an exquisite dessert menu idea for Easter.

 

The above ideas on Easter ham menu can make your ham dish the star of Easter foods, just as the golden tradition, which has been passed over the ages with the richness that shimmers even to this day!
Photo Courtesy: ifood.tv
Easter Ham Menu