Diwali Sweets Collection
19 Oct 2008
Here is a delectable collection of traditional Diwali Recipes to help you make this Diwali celebrations more zestful!! The collection includes Recipes for Diwali deserts and snacks. Choose and cook your favorite Diwali Recipe with love and delight your dear ones in a very special way!!
Wheat Laddu
Ingredients:

1 cup Wheat Flour

1/4 cup Gram Flour

11/2 cup Sugar Powder

1/4 cup Grated Coconut

1/4 cup Dry Fruit almonds, raisins, kaju etc

1 cup Ghee
Preparation:

1. Heat the ghee.

2. Put both the flours in the heated ghee.

3. When nearly roasted put coconut and sliced dry fruit in the mixture.

4. Now put the ground sugar in the mixture and stir thoroughly.

5. Take off from the heat quickly and make laddus. You may also put the mixture in an oil based thali & make small pieces.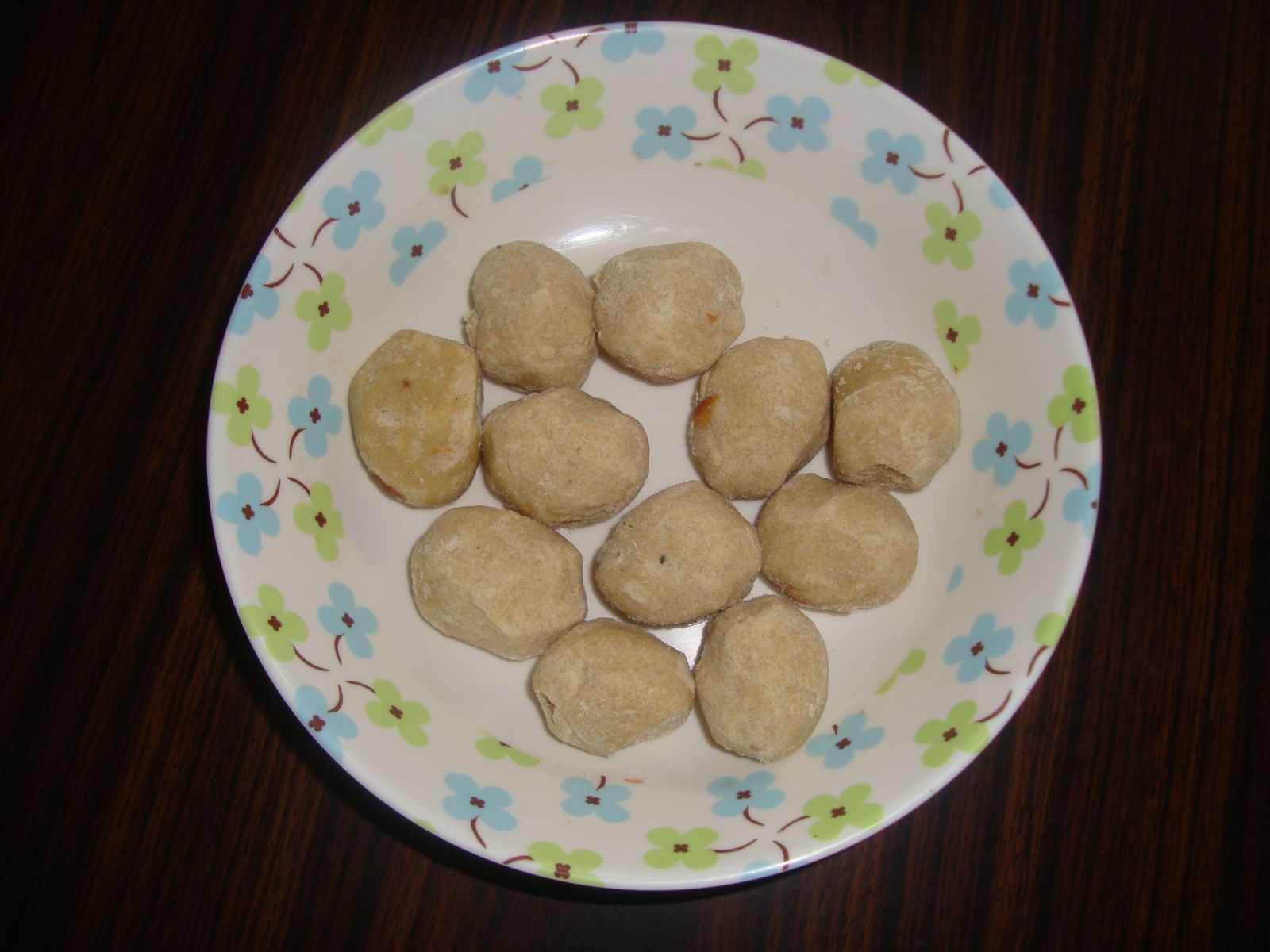 Soan Papdi

Ingredients:

1 1/4 cup Gram Glour

1 1/4 cup Maida

250 gms Ghee

2 1/2 cups Sugar

1 1/2 cup Water

2 tbsp Milk

1/2 tsp Cardamom seeds crushed coarsely

4" squares cut from a thin polythene sheet
Preparation:

1. Sift both flours together.

2. Heat ghee in a heavy saucepan. Add flour mixture and roast on low till light golden. Keep aside to cool a little, stirring occasionally.

3. Prepare syrup simultaneously. Make syrup out of sugar, water and milk. Bring syrup to 2 1/2 thread consistency.

4. Pour at once into the flour mixture. Beat well with a large fork till the mixture forms threadlike flakes.

5. Pour onto a greased surface or thali and roll to 1" thickness lightly. Sprinkle the elaichi and gently press down with palm.

6. Cool, cut into 1" squares, wrap individually into square pieces of thin plastic sheet. Store in an airtight container.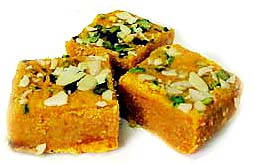 Besan ki Barfi

Ingredients :

Besan 1 kg

Sugar 1 kg

Water 1/2 liter

Ghee 1 kg

For garnishing: Pistas, Almonds
Preparation :

1. Fry besan in ghee on low flame for about 30 mins till it becomes pink and ghee separates.

2. Mix sugar and water into a syrup.

3. Add this syrup to the besan and mix well.

4. Pour this mixture into a greased tray.

5. When it cools cut into cubes and garnish with pistas and almonds.
Karanji

Ingredients :

For Filling:

1 cup grated Dry Coconut

1 cup Powdered Sugar

1 pinch Nutmeg Powder

1 pinch dry Ginger Powder

4 Elaichi

2 tsp Maida

2 tsp Poppy Seeds

2 tbsp Mixed Dry fruit pieces
For Dough:

1 cup maida

1 tsp Ghee

Salt to taste

Warm milk to prepare dough
Preparation :

1. Roast Dry coconut.

2. Roast maida in ghee.

3. Roast poppy seeds.

4. Mix all the above ingredients & grind them.
For Dough:

Mix all the dough ingredients & prepare dough (a little hard).
For Karanji:

1. Make small oval shaped puris from dough.

2. Fill the prepared stuffing inside.

3. Apply some water or milk so that it will seal properly (don't apply too much of water as it will not seal properly).

4. Deep fry it till it becomes brownish colour.

5. Serve it hot or cold.

6. Karanjis can be stored for weeks.
BADAM (ALMOND) KATLI

Ingredients (Makes 35 Katlis approx)

250 gm: Almonds (soaked overnight)

200 gm: Sugar powdered

Few tbsp: Milk

Silver foil (optional)
Preparation:

1. Drain and change water from almonds.

2. Peel almonds. Keep aside.

3. Wash once more to remove any traces of brownishness.

4. Grind to a fine paste using as little milk as possible.

5. In a heavy large skillet mix paste and sugar.

6. Cook, stirring constantly, using a large handled spoon or spatula.

7. Take care of splattering in initial stages.

8. Also, do not stop stirring because the mixture burnt and stuck to bottom of skillet will spoil the taste.

9. When a soft lump is form, which leaves sides of skillet easily, take off fire.

10. Grease a clean work surface and a rolling pin with melted ghee.

11. Put lump on it. Roll quickly while still warm to 1/5" thickness.

12. Apply silver foil and press lightly with foil paper.

13. Mark out long diamond shapes with a sharp knife.

14. When almost cool remove carefully with a sharp edged wide spatula.

15. Cool completely before storing in layers between sheets of butter paper.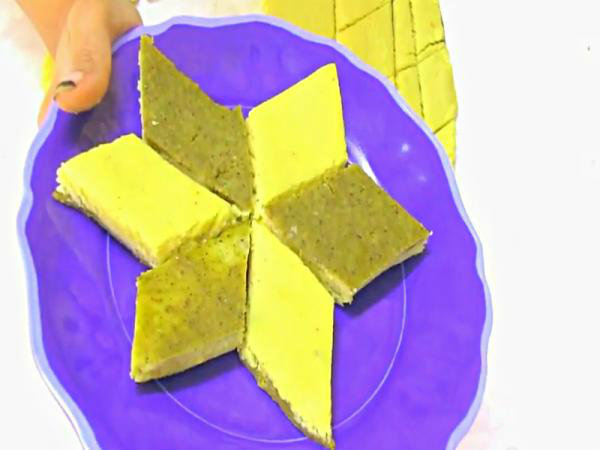 MALPUA
Ingredients :

1 cup sugar

1-1/2 cups wheat flour

4 tbsp yogurt or curd

10-15 whole peppercorns

Milk

Water
Preparation :

Make a batter of all of these dry ingredients and the dahi, using 1/2 milk and 1/2 water till it is thick and of pouring consistency, similar to pancake or dosa batter. And whip till smooth. Add the 10 peppercorns. Keep aside and allow it to rise for about two hours.
Heat oil on a medium flame. Drop large ladlefuls into the oil to form circles of 6-8 inches. Typically the dough will sink and line the bottom of the karhai and rise up in the shape of a disc. Fry till golden. Drain and pat off the oil. Serve with cream or garnished with pista. Serves five.
DOODH PEDA
Ingredients :

1/2 kg khoya. Khoya is made by reducing a large volume of milk to a solid by very slow boiling for many hours; about 3 litres of milk will produce hardly 200-300 gms of khoya.

250 gms ground sugar

250 gms milk

2 drops rose essence or a few strands saffron or kesar

2 tbsp almonds, finely slivered

2 tbsp pistachios, finely slivered

1 tsp green cardamoms or elaichi powder
Preparation :

Mix the khoya and sugar well, and warm it over a medium fire. Add 2 tablespoons of the milk and stir with a heavy ladle smoothening out any lumps. Continue stirring and add more milk, little by little, till all the milk is used up. Lower the heat, if it sticks at the bottom.
Add the rose essence or saffron dissolved in milk, and take off the fire. Mix the flavouring and khoya properly.
In a plate, mix the finely slivered nuts with the cardamom or elaichi powder. Make small balls of the khoya mixture and press on the nuts for decoration. You can also make depressions along the edges with a spoon handle or other stamp moulds for surface designs.
KESAR BHAT
Ingredients :

1 cup rice

1/2cup sugar

1/4 tea spoon kesar

50 gms raisins

50gms cashew nuts

1/2 cup ghee

5 pods cardamom
Preparation :

Wash and cook rice in four cups water. Add ghee and sugar and continue cooking on low flame. Stir continuously. powder cardamom and add to the rice.. Keep cooking till the rice mixture leaves the sides of the vessel. Grind kesar and add to rice. Finally add raisins and chopped cashew nuts and mix well.
Image Courtesy: wallpapersname2012
Diwali Sweets Collection