Traditional Easter Desserts

4 Apr 2011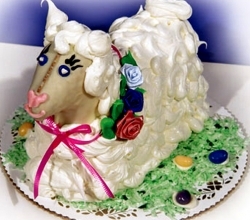 Traditional Easter desserts are light and in way they are tribute to the spring season. The colors used in Easter desserts are spring colors that are pastels of pink, yellow, soft greens and light blues. The desserts are shaped up in the form of spring flowers, bunny or rabbit, baskets, bird's nest, eggs and many more designs to celebrate the festival of renewal and rebirth. While chocolate Easter candy is everyone's favorite Easter dessert, the traditional Easter desserts have a history attached to it.
Here are some of the very traditional Easter desserts made across the globe from America to Europe.
Lamb and Rabbit Cakes: Cakes made up in the shape of lamb and rabbit are the most traditional desserts on Easter food menu. White cakes are made in lamb shaped molds and cake resembles a white fleeced lamb. Similarly Easter bunny cakes or rabbit cakes are very popular and are decorated for a playful presentation.
Carrot cake: While the rabbit cake steals the show, rabbit's favorite food carrot is used to make a luscious traditional Easter dessert. A traditional Easter dinner is considered incomplete without the carrot cake.
Ambrosia: This scrumptious fruit dessert combines fruits like oranges, coconutsa, and pineapples.  Sometimes it may also have marshmallows as a creamy and sweet base. Ambrosia is a traditional dessert that has red cherry topping that depicts the red blood of Jesus Christ.
Ricotta cheese cake:This is an Italian traditional Easter dessert combining ricotta cheese, orange zest, and eggs. Addition of fresh fruits like strawberry or cranberries is a usual practice although walnuts and almonds also make for tasty addition.
Hot cross buns: It is yet another traditional dessert which is a tasty treat of buns marked with a cross to symbolize Christ, His death and rebirth. It is often eaten during the day before the grand Easter dinner Party.
Strawberry shortcake: Traditional Easter food menu is never complete without a fruit based dessert. Strawberry short cake is the perfect fruit dessert that is repeated year after year. The layered vanilla cake combining whipped cream and juicy red fresh strawberries is to die for.
Raspberry lemon cake: This Easter dessert brings together a fruit and a citrus to mark its presence in the Easter day celebrations. It delivers the perfect flavor for celebrating Easter.
Lemon curd:It is a versatile traditional Easter dessert as it can also be used on cookies, pies, and tarts. The creamy texture and the freshness of lemon make it a perfect dessert for Easter. This sweet traditional dessert is loved by kids and adults alike.
Every region has its own specialty traditional Easter dessert however the motto is same; celebrate life and rebirth in the spring season. To enjoy a traditional Easter these are some of the all time favorite desserts to try.  
Image Courtesy: ifood.tv
Traditional Easter Desserts