Easter Chocolate Candy

3 Apr 2011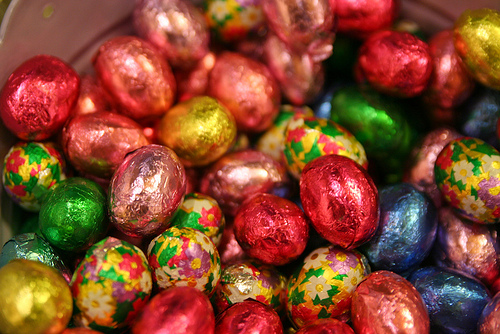 Easter Chocolate Candy is the most interesting part of Easter holidays. You can find them everywhere you go and in all the gifts that you open. In spite of having varied Easter foods, the focus is entirely on chocolates because of its taste of course and their external beauty. Easter chocolate candies are molded into attractive forms and figures and wrapped in colorful wrappers thus being the most sort after part of Easter celebration. While children love to eat chocolate Easter candies, moms enjoy making chocolate eggs, bunnies, and many interesting forms which their kids enjoy. And people who do not make chocolate Easter candies simply buy attractively packed chocolate candies and gift their near and dear ones.
Although Easter chocolate candies are available in plenty and variety, the fun of homemade Easter candy is totally missed out in this case. By preparing chocolate candies at home, one can customize chocolate candies according to taste, color, shapes and decoration. Traditionally, Easter chocolate candies were made with dark chocolates and in the shape of eggs, today the art of making Easter chocolate candies have gone beyond everyone's imagination. So, why not try your hands at making candies at home, we have best 5 homemade chocolate candy making ideas.
Here is a list of items that you would need for making Easter chocolate candy.

 
Chocolate (dark, white or milk)
Food color for decoration
Double broiler for melting chocolate
Heatproof container
Candy thermometer
Rubber spatula
Pastry bag
Candy molds (as per shape preference)
Cellophane bags for storing
Assorted decorations
Steps To Preparing Easter Chocolate Candy
Melt the chocolate in a double broiler.
Let the chocolate cool down and check the temperature with a thermometer. It should be between 88-91 degrees Fahrenheit.
Fill the squeeze bag or frosting bag with melted chocolate. Wear cotton gloves for safety concerns.
Start filling molds; gently scrape off any extra chocolate into a bowl.
Gently tap the mold after filling to get rid of air bubbles.
Follow the instruction given along with the molds.
When you have finished making your Easter chocolate candy, wrap them in colorful wrappers and make gift box or even an Easter candy basket. It's a great idea to have the kids involved in making Easter candies. They too would love to help you and try to incorporate their ideas into making chocolate candies.
Image Courtesy: farm6.static.flickr.com
Easter Chocolate Candy