Easter Brunch Restaurants

2 Apr 2011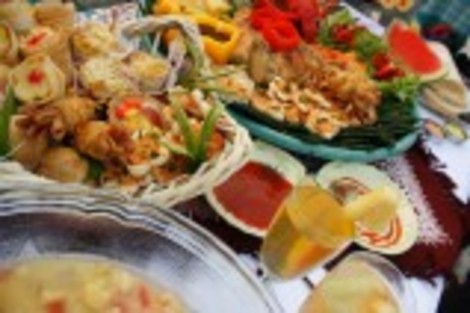 Bored with cooking, take leave and book table for special Easter brunch at restaurants. Easter brunch restaurants not only give holiday for cooking but offer fantastic Easter celebration. Easter brunch at restaurants include lot of fun activities, delicious food and lively music to entertain diners.  Also Easter brunch restaurants offer variety of food, so you can opt for buffet or check the menu for the food of your choice. Each and every restaurant has different activities and different style of menu. The location of the restaurant also plays important role, few feature fantastic views while the others have fabulous interiors. Here you can look some of the best spots to have Easter brunch.
Canoe
Canoe at Atlanta is situated at a very beautiful spot with historic importance.  Tasty starters include smoked salmon on a crispy potato cake accompanied by Vermont goat cheese and jumbo lump crab cake with cabbage slaw that is yuzu dressed. Grilled Atlantic salmon with carrots, pecans and spaghetti squash and chili glazed duck breast sausage are some of the entrée selections. The variety of desserts displayed would lure all the diners from kids to adults. By the riverside, you can also enjoy your favorite wine.
Peacock Alley
Looking for a place to have Easter brunch at restaurants in New York?  Then reserve table at Peacock Alley to have a casual but great dining experience. Start with Breakfast dishes like country bread with goat cheese and herb omelet and pork belly along with poached eggs. Interesting lunch includes sandwiches, salads and black truffle vinaigrette. Grilled yellowtail tuna is the special entrée served. You can drink the restaurants popular champagne cocktail that include strawberry and Pommery champagne.
The Beacon Hill Bistro
This restaurant at Boston is quite different from others, starting from the interior to liquors and food. You can begin with leek and cauliflower soup, stella Artois, roasted tomatoes, herb aioli and steamed Maine mussels. The range of food for lunch includes roasted Brussels sprouts, roasted chicken breast, lobster, seared scallops, and bacon. Other favorites like steak frites and omelets are available or both lunch and brunch.
Joe's
Chef cum owner Joe miller is happy to host diners for Easter Brunch.  Joe does not come under the celebrity chef list but proven him as the best.  Red tones with modern painting and the warm ambience are the highlights of this spot.  Joe prepares fantastic seafood that make difficult for you to choose between the meat and seafood preparations. Grilled baby octopus combined with Greek salad and Kalamata olive dust are served as starters. Entrees selection is too good that range from pork tenderloin crepinette and Tasmanian ocean trout with mint tea broth to pancetta and Brussels sprout.  Desserts and 300 wine varieties just confuse the diners to pick from the display.
Easter brunch restaurants lure people with exclusive foods and interesting activities. Plan ahead, try any of the above listed restaurants or surf online to find the best spot near you town. Compare the rates, food choices and services and choose the one that suits you.
Image credits: i.acdn.us
Easter Brunch Restaurants