Cute Easter Desserts

1 Apr 2011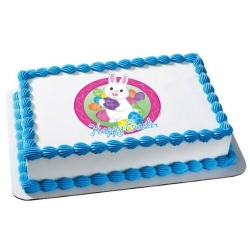 Easter is the celebration time in spring when you can break all the rules and come out of your shell and get blended in sweets and Easter treats. Cute Easter desserts are the heart of celebration and they bring more bulk of sweetness in every moment. Cute Easter desserts include variety of savories to relish upon. You can conjure up some vibrant puddings, ponder over making some homemade cakes, or infuse Easter positivity by including egg-based desserts. Easter desserts have special distinction than other dessert version as they are more ravishing and topped up lot many fruits and resins, or made up in Easter egg form. Let us search for some cute Easter desserts to make the best of  this holy occasion.
Easter Bunny Cake – You can ask for some little hands to lend their help while preparing Easter bunny cake. You can prepare it with assorted candies, vanilla or strawberry essence, licorice ropes, jelly beans, frostings, and colorful icing. Add some nuts in form of walnuts or almonds if you wish for nutty taste.
Easter Carrot Cake – Carrot cakes are popular desserts in every festive occasion, but Easter carrot cakes has got some extra tinge of delicious flavor with updated nutritional silhouette. The generous mixing of crushed coconut, crushed pineapple chunks, finely chopped walnuts and almonds, good dose of vanilla cream, baking soda, reduced fat cream cheese, milk, low fat buttermilk, and aroma of cinnamon and cardamom makes the dessert look and taste just fabulous.
Easter Chocolate Nest Cake – Assured to tantalize you and make you the favorite among your peers, Easter chocolate nest cakes are made out of adorable chocolates, milk, assorted candies, vanilla, frosting and edible glitters.
Easter Bunny Cookies – One of the most loved dry desserts of all times, makes some light cookies, and decorate it in any fashion you wish to. You can add chocolate flakes to it, add some red cherries or rasp berries to it, or juice it up with orange or strawberry juice. Any of the ways will make you fanciful!
Lemon Berry Trifle – You can make some trifles at home and make it fruitier by rich combination of fruits like apple, red cherries, raspberries, grape fruits and some quick -to- savor-raisins to make it more enriching.
Painted Easter Cookies – You can make some innovative painted cookies by dipping the crisp cookies in chocolate already melted and adding some assorted colors to it. White coated wafers can also be created by dipping crispy cookies in milk vanilla cream and baking it for an hour or so.
Image credit: squidoo.com
Cute Easter Desserts