How To Make Easter Cakes
1 Apr 2011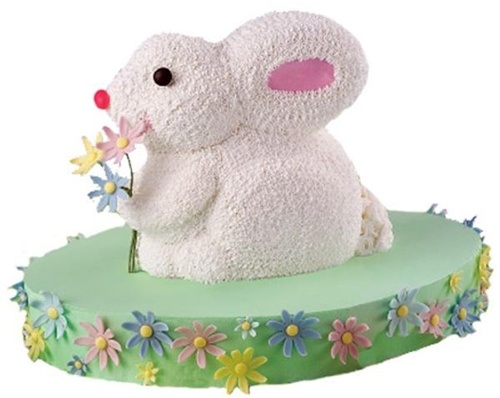 Learning how to make Easter cakes can be a fun filled process whether you enjoy baking or not. There's so much creativity that can go into the whole doings and it can even become a team activity.  Just like Christmas, Easter is when the baker of the cake can really go all out in the kitchen.  Shrove Tuesday, when householders rush to use up the last eggs and butter before Lent, is a fantastic way to start the festivities. This festival is celebrated all over the world by Christians, whether you're a German eating Rote Grutze, or a crepe eating French.
Prefer cake to pancakes? The Simnel Cake is a ritual dating back to the 17th century, when young women baked it for their mothers. Loaded with fruit, spices and a hidden layer of marzipan, it's a grand way to rejoice the end of Lent.
Here are some how to tips on how to make a bunny shaped Easter cake. Cut one cake layer in half. Place cut halves side by side, and cut a small block from both, about 1/3 way down the body. This separates your bunnies' heads from their small bunny bodies. The cut blocks will be used as a tail.
Frost between each half of your layer cake along with the tail pieces and then press together. It will be difficult to place the bunny upright on a platter after frosting so do that now. Make sure you stick the talk to the back of the body by using some frosting. Be generous with using the frosting.
Sprinkle shredded coconut all over the frosted bunny so it gives it a fluffy effect, you can use M&Ms or Skittles for the eyes and nose. If you want to add extra detail to your Easter bunny cake you could try using licorice strings for whiskers, small mints for teeth, and large globs of frosting for cheeks.
A bunny cake is not complete without ears and the best way to make these it cut pink construction paper to shape and fan slightly. If you want an edible set of ears for this cake you could try using fondant to shape the ears, use whipped cream if the cake is laying flat or even marshmallows (this is easiest if marshmallow is chilled after flattening). Surround your Easter bunny cake on a tray with green sprinkles to make it look like grass and chocolate eggs or skittles if you like to give it a more colorful effect.
Hope these tips and techniques gave you a better idea on how to make an Easter cake. Count on me, it will delight your children, family, and friends when they see this delicious homemade treat.
Image credit - squidoo.com
How To Make Easter Cakes