Easter Brunch St. Louis

1 Apr 2011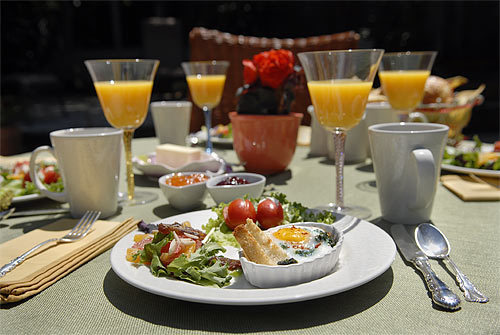 Many families like to go out for Easter brunch.  This article will show you good places to have Easter brunch at St. Louis. It is really a challenging job to find the right restaurant suitable for your budget. Also don't forget to book table well in advance. Easter brunch St Louis restaurants are great since the food served are delicious. Here are some interesting places for Easter Brunch at St Louis.
Three Monkeys Easter brunch St Louis
Three monkey's restaurants serve families with exclusive treat for kids. Here at Easter brunch, kids are allowed to dip cake and fruit in the chocolate fountain with their parent's aside. Candy egg is offered to every kid participating in the Easter brunch. Kids are very choosy about picking foods; so yummy macaroni and cheese are served to them.  Kids would surely like them. Adults too can taste the delicious food offered at the buffet that include chicken, beef, and meats with ham. You can also find breakfast dishes like eggs, home fries and bagels.
Sqwires Easter brunch St Louis
Here you have two options, you can enjoy the buffet else order items from the standard menu. They have omelet station, seafood display, salads, and brunch items. Cereal, eggs, ham and sausage are some of the traditional breakfast items served. Highlight of the buffet is the French toast that is prepared using brioche bread. Enjoy beverages such as juice, tea, coffee and champagne.
MissouriBotanical garden Easter brunch St Louis
Easter brunch is very popular in Missouri Botanical gardens. The grand feast includes roast beef, pasta salads, ham, desserts and much more. You can have good time at this place.
Bixby's Easter brunch St Louis
This place is bit expensive but offers wondrous food. In the afternoon, you learn the Missouri's history and once you finish your lunch, you have great time at the Missouri History Museum. The museum is situated in the same building. You have host of dishes such as seafood choices, chicken stuffing and beef varieties. You also have the option to have egg with the ingredients of your choice. Omelet or Frittata is prepared in individual stations just in front of you.
Easter brunch St Louisis available at all ranges including Affordable, moderate and expensive. Depending on your budget decide a nice place to have Easter Brunch with your family.
Image credits: s3.amazonaws.com
Easter Brunch St. Louis