Easy Easter Desserts

1 Apr 2011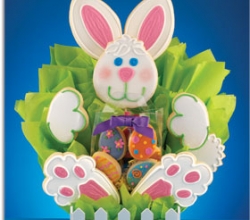 Easter is a time for tradition and celebration, a time when you spend time with your family reveling in the festivities. It is also an occasion to indulge in food and there is nothing like a few easy Easter desserts to make everyone happy. Why easy? Because, it is an occasion when you would love to spend time with your family and not in the kitchen. So if you get hold of some easy Easter dessert recipes, then you are sure to save some time as well as treat others to some scrumptious desserts. Here we are listing some Easter dessert ideas which are easy to make—
This is an easy Easter dessert which will make everyone happy, especially kids. You can make Easter egg nests with a no-bake cookie recipe. All it requires is shaping the cookies into nests with a spoon before they harden. Then once they are hard, fill those cookie 'nests' with lost of egg shaped colorful Easter candies. If you want you can also make use of rice cereal to form the nests.
Raspberries are an all time favorite with young and old alike so you cannot go wrong in choosing this dessert for Easter and it is also an example of easy Easter dessert. 
For this dessert, all you need to do is mix butter and sugar until it is smooth. Then add flour to it gently so that no lumps are formed, next put in grated coconut. Now take with the help of tablespoons form the mix into egg shape and bake at 325 degrees for around ten minutes.
This is another easy Easter dessert which will make the kids really happy. First make the Jell-o according to the instructions and before it sets, add jelly beans to it. Then take some green food color and dye the grated coconut to resemble grass. Now sprinkle this green colored coconut over the Jell-o once it sets and put it in refrigerator.
You can make this dessert if you want to try something different this Easter. Mix together sugar, flour, cinnamon and baking powder and then add milk and stir well. Now put butter into the bottom of a baking dish and pour the batter over it. Then put the peaches over the batter along with the syrup. Put in enough syrup though. Just put this dish into the oven and bake for at least 35 minutes at 350 degrees. Next, mix together sugar, brown sugar and cinnamon in a bowl and sprinkle over the crust an bake till it turns golden brown.
So now you have few ideas on easy Easter dessert and if you have time, you can try making even two or three desserts this Easter!
Image credit-- ifood.tv
Easy Easter Desserts