Decorating Easter Cupcakes

31 Mar 2011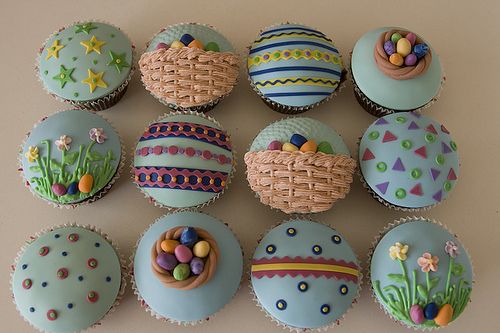 Easter is the time of fun, frolic and partying with your near and dear ones. Food and cakes are the heart of Easter celebrations. It is the perfect time to  create innovative cupcakes with whimsical decorations. It is also a great way to spend time with your children. So here are some of the ideas for decorating Easter cupcakes.
Decorating Easter Cupcakes
Stencils – Buy a small suitable cup cake stencil and get some  baked cupcakes. Mix some icing with white sugar, vanilla essence, and glitters. Press the cupcake stencil over the cupcake and use the icing to decorate it. Lift up the stencil slowly and here you are ready with lovely decorated cup cakes.
Jelly Beans – Buy some colorful jelly beans and place them on iced cupcakes to make shapes such  as a Easter egg basket.
Piping gel – Buy piping gel to decorate cupcakes with colorful designs and rawings.
Nestling Your Cupcakes – You can create egg shaped cup cakes by cutting them into oval form. Add some whipped cream and sprinkle icing and glitter on the top of whipped cream and finally nestle in some egg shaped candies to give an image of a nest.
Chocó Marshmallows – You can decorate cupcakes with chocolate flakes. Grate some chocolate into thin flakes and sprinkle it on the top of whipped cream. Now add some colorful candy eggs to it and cover it with some brown sugar and red cherries. Lastly add the tinge of marsh mellows and place it in green colored basket for the occasion.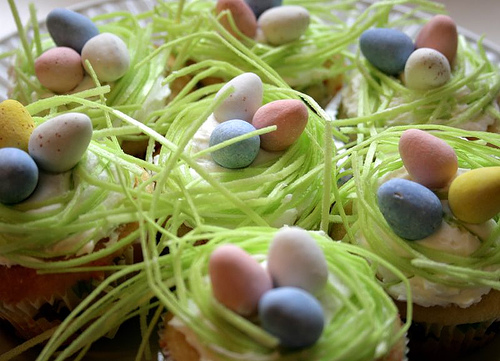 Edible Easter Green Grass- Several varieties of edible Easter grass are available in stores. Buy some of them and decorate your cup cakes with them. They resemble  green colored noodles or spaghetti.
Try any of these methods and use your imagination to make beautiful Easter cupcakes!
Image credit: allthingscupcakes.com
Decorating Easter Cupcakes