Easter Cooking

30 Mar 2011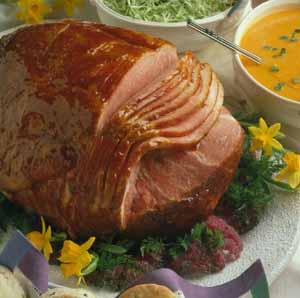 Easter is a Christian festival that holds immense importance in their religion. The day is marked by Easter cooking which forms an integral part of the celebrations.
Easter is celebrated to commemorate the day when Jesus Christ was resurrected from the dead after his crucifixion. The Easter day or Easter Sunday falls two days after the Good Friday and three days after the Maundy Thursday. The date for Easter is not fixed and it is determined through a lunisolar calendar which is very similar to the Hebrew calendar.
This is the day when families get together and make merry. Easter cooking thus is a way of celebrating the day with the family members by preparing some goodies. The meals on Easter are traditional and in fact Easter dinner is a much anticipated affair.
Easter cooking can range from hosting a brunch, or lunch or the traditional dinner. Though the dishes can vary but eggs form an important part of the Easter cooking and have to be included somehow.
Here we are providing you with some Easter cooking ideas to make your family meals special on that particular day.
If you want to go about Easter cooking in the traditional way, you can start with making eggs. You can make deviled eggs by peeling the shells off the boiled eggs and slicing them in half. Place the yolk in a bowl and mix it with mayonnaise, sour cream, lemon zest and chopped dill. Then spoon this mixture into the egg white shells and season with chives, paprika and sea salt.
Ham is also a traditional dish served on Easter. The simplest dish which you can try for Easter cooking is glazed ham. For that mix some teaspoons of bourbon with a little sugar. Ass fruit juice and honey to it. Marinate the ham in this mixture and then cook it according to the instructions. You'll have to keep on puling it out of the oven every half-hour or so and keep on brushing it with the alcohol mixture. Put some pineapple slices on the side and when ready, serve with mashed potatoes and broccoli.
You can also try roasted lamb as one of the Easter cooking ideas. Marinate the lamb with lemon juice wine, olive oil, garlic and oregano and grill on a barbeque. Serve this with baked potatoes and salad.
Breads are also a popular choice for Easter meals. Bread signifies an end to Lent fasting. For Easter cooking you can try making hot cross buns which are a traditional food item. Each bun is marked with a cross as symbol of Christianity.
Serving seasonal vegetables is also a one of the Easter cooking ideas for the family feast. Asparagus, potatoes, green leafy vegetables all signify the advent of spring and add a dash of color to the dishes. You can sauté a variety of green vegetables and serve as side dishes along with the meats. Not only it tastes good, but it is also very healthy.
No Easter meal is complete without desserts. So this year for eastern cooking you can make some delicious cakes or cup cakes and decorate them in patterns of eggs or bunnies to infuse that festive feel to it. You can also try making chocolate truffle eggs. Apart from that pies and tarts can also be a good option.
So with all these ideas, I'm sure your Easter cooking will be well appreciated by the family members.
Image credit-- homebakedmemories.com
Easter Cooking