Easter Cakes Pictures
30 Mar 2011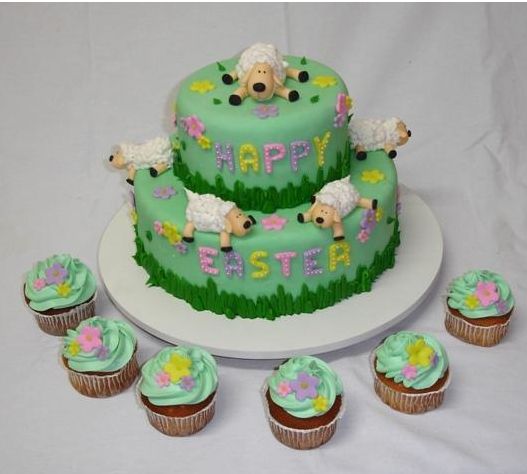 Easter is celebrated with great fervor throughout the world, especially by Christians.  It is the day when Lord Jesus resurrected.  Easter is celebrated two days after Good Friday.  Like all the festivals, Easter also has some traditional recipes and desserts, which are prepared on or around Easter.  More emphasis is laid on sweets and this keeps children as well as elders equally eager for Easter.  The traditional Easter sweets are mostly prepared with chocolate like chocolate eggs, chocolate bunnies, chocolate cakes, and Easter chocolate baskets.  
While preparing Easter cakes you can refer to Easter cakes pictures.  That will help you to understand and observe the style of icing and decoration that has been done on the cake.  A basket weave icing is fairly simple to attempt.  However, most of us are not able to decipher how to do it.  Thus, if you refer to the step-by-step easter cakes pictures to create that pattern then it is a matter of 15 minutes and the Easter basket cake is ready.  Similarly pictures of Easter cakes such as an Easter egg cake is helpful to identify how the finished product should look like.  Most of the Easter egg cakes are fondant cakes as fondant provides the scope to create an even sphere instead of buttercream icing.
You can learn and imitate beautiful piping techniques by observing pictures of easter cakes.  The pictures exhibit various ideas of creating innovative Easter cakes such as the ice-cream basket.  All you have to do is scoop some sponge out of a vanilla sponge from the middle and glaze it with some chocolate ganache.  Then cut ice-cream into cubes and arrange in the cavity that you have created in the sponge.  For creating the complete basket effect you can create a handle with aluminum foil and fix it with toothpicks on either end of the cake.  All this is a little hard to follow by reading or listening.  However, if you have the pictures of Easter cakes then you can eaily understand the technique to create a similar cake.
The pictures also illustrate the presentation style of the Easter cakes.  You can compare your finished cake with the picture.
Easter Cakes Pictures