Easter Brunch New Orleans

30 Mar 2011
Easter brunch is something special to t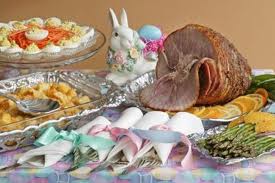 he city of New Orleans and Louisiana State. The Pelican State, as it is informally called is widely known for its music, art, and culture, with food as its heart and soul. The word food seems to be coined in this land of food connoisseurs, where eat, drink and be merry is the central dogma of the city`s life. Food is very much the part of New Orleans and people here don't wait for any particular occasion to enjoy the delicious food bites. However, Easter brunch ideas come flowing amazingly and bars, restaurants are booked in advance for that truly special Easter brunch day. Some of the timeless Easter brunch recipes with names of famous local restaurants are here to go. Read on to experience the exotic culinary world of New Orleans.
Easter Brunch in New Orleans
Local restaurants in New Orleans are acknowledged for serving some delectable, some popular, and few bizarre cuisines for Easter Brunch.
Brennan in New Orleans is located in the heart of French quarters. Known for serving some of the exotic Easter brunch with a touch of tradition and elegance in equal patio, Brennan locale has picturesque locale to spark your food passion to extreme. Some of Easter brunches you can relish at this restaurant is baby milk fed veal with succulent beef, Creole onion soup, Banana Foster, Poached eggs with Cajun sausage, and some of the queer seafood recipes.
The Embers is another great restaurant you can take your family to on Easter Brunch. The place offers a new trend of culinary cuisines with brunch ideas of right mix. Being located in The Bourbon Street, you get the experience of breathless excitement of dining on one of the largest balcony in Bourbon. Here you have lovely chance to avail some of the brunch recipes like, Shrimp Cocktail with tangy sauces, New Orleans Crab food served with Remo lade sauce, and stuffed Crab platter.
Red Fish Grill is another restaurant famous among casual foodies offering a true culinary phenomenon. You can find some of the best variety of fish, crab, and oyster used in preparations. For Easter brunch menu, you can taste the recipes like seafood and chocolate pudding, Vanilla Cheesecake, Butter pies, Sugar free flour less chocolate torte, and ice creams sorbets.
Arnaud`s Restaurants is selected among the top restaurants for offering a different culinary experience and is favorite eating spot of many celebrities. Some of the try out Easter brunch menu here can be Smoked Pompano Bourgeois, Oysters Bienville, and Alligator sausage.
You can savor Easter brunch treats in these restaurants offering world class menu with a whole new dining experience.
Image credit: drexelbookcatering-blogspot.com
Easter Brunch New Orleans