How To Make Easter Eggs
29 Mar 2011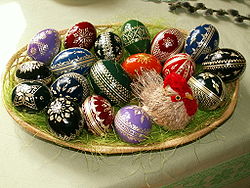 Where there is Easter, there are eggs! For egg lovers, who want to do something different this year, here are a few tips on How To Make Easter Eggs.
Easter and Easter eggs
Easter eggs are special eggs, which are generally offered to celebrate springtime or Easter. This year Easter falls on April 24. Early Christians believe it as a symbol of Jesus' resurrection, while it is widely considered as a symbol of Earth's rebirth. In the festival that celebrates the arrival of spring, chicken eggs are painted traditionally to create Easter eggs. However, chocolate has substituted the traditional dyes and artificial colors, while others fill confectionery like jellybeans in plastic eggs to create an Easter egg.
Eggs are known to be rich source of protein. But this year, egg lovers have another reason to celebrate the Easter since the latest USDA data showed that one large egg contains 64% more Vitamin D and is 14% low in cholesterol at 185mg.
How to make Easter eggs
Method 1
To make Easter eggs, first collect cashew nuts, sugar, egg whites, fondant icing and almond essence. Now, powder the cashews and sugar separately and mix them together. Use egg whites in this mixture to make soft dough. Then, make small egg-shaped balls from it and decorate it with fondant icing. Wrap the Easter eggs in a cellophane paper.
Method 2
American Egg Board recently carried out a survey to find out the moms' knowledge about cooking hard eggs for Easter and ended up with surprising results. Only three in 10 mothers actually know how to make Easter eggs correctly. More than 164 million eggs were purchased last year during Easter in the U.S. Cooking Channel host Chef Jeffrey Saad shares some of his tips on how to make an Easter egg. He says the right way of cooking an egg is to cook it gently to avoid forming a green ring around the yolk, which makes the whites hard.
Collect eggs, colored tissue papers, water and scissors. Now place eggs in a saucepan and add cold water to drown them by 1 inch and heat the vessel over high flames just to boiling. Remove the pan from heat, cover it and allow the eggs to stand in hot water for 12-18 minutes depending on medium, large and extra large sizes of eggs. When the eggs cool down, put it under running water and place them in a bowl. Cut the colored tissue papers in small pieces and place them on egg using water. Remove the tissues from the egg after 5-10 minutes and see enjoy its colorful patterns.
Method 3
You can either use a hard-boiled egg or a plastic egg to make an Easter egg. Decorate it with pictures of your favorite cartoon character or paste pictures of your family members. You can also color the eggs with natural colors, lace, glitter, paper towel, wax, cloth pins, colored foil, buttons etc. Easter eggs are like blank canvas, just use your imagination to create some thing new and unique.
Hope these easy tips on how to make Easter eggs will give you a chance to celebrate the beginning of springtime in a different way. Exchange personalized Easter egg gifts with your friends and wish them wonderful times ahead.
Image Credit: en.wikipedia.org
How To Make Easter Eggs