5 Potluck Lent Meal Ideas For Office Party
26 Mar 2011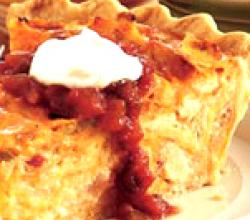 Lent is the day that Catholic Christians observe of annual commemoration during the Holy Week of Death and Resurrection of Lord Jesus.  It is day for prayer and repentance.  On Lent the food is the key to the prayer because it is a strictly no meat diet.  You can have chicken or seafood but no meat.  On this Holy day most of the offices try to encourage a potluck party to infuse an atmosphere of togetherness and also for celebration.
We would like to share 5 potluck lent meal ideas with you, so that you can create something easy and delicious for you office party.
Chicken Pot Pie
This is classic pie and can be created with minimal effort.  First you need to assemble the ingredients: boneless chicken thigh (cut into an inch thick pieces), half teaspoon thyme, two teaspoon cornflour, four teaspoon butter, crushed black pepper, salt to taste, chicken concentrate (liquid or cube), and puff pastry.  Slightly bronw the chicken for a few minutes in some butter. take it out of the pan.  Add cornflour and the remaining butter in the pan and cook until the flour yields a golden color.  Immediately add thyme black pepper, salt, half liter of water, and chicken concentrate ( if it is a cube then two cubes, if it is liquid then three tablespoon).  Bring to the boil by stirring constantly to avoid lumps.  Add the chicken back in the pan ans simmer for five minutes.  Transfer the chicken in a butter lined baking dish.  Cover the baking dish by the ready rolled puff pastry.  Bake in the oven at 180 degree for 20 minutes.  Yummy chicken pot pie is ready.  You can reheat this in the office or prepare it on the morning of Lent.
Chicken Quiche
Quiche is kind of a tart with a savoury egg and cream based filling.  It can be on eo fthe meals for lent.  You can bake ready rolled puff pastry in the oven for 15 minutes in a tart tin.  Once it is baked let it cool for 5 minutes and then place roasted chicken pieces with some cheddar cheese in the tin.  To prepare the filling mix the eggs, cream, dired oregano, and a little garlic oil.  Add the filling in the chicken filled tart tin and bake in the oven for 25 to 30 minutes at 180 degrees for the first 10 minutes and then at 150 degrees for the rest of the time.  Before serving you can also add some fresh basil on top of the quiche.
Roast Chicken Wraps
Wraps are the easiest to make and the fastest to be finished.  Toast some tortillas, line them with shredded iceberg lettuce, tomato slices, sliced roast chicken, mayonnaise and lime juice.  Wrap the tortillas tightly into rolls.  The chicken does not have to be hot.  It can be a day old roast chicken which can be served cold or can eb rehated with some butter in an oven for 10 minutes.
Fish n Chips
Fish and chips are the easy to make and carry.  Choose a meaty fish like cod or monk fish.  Coat the fish fillets in a batter of flour, water, salt, and ice.  Immediately deep fry till golden brown.  The chips in question can be created within 15 minutes.  Cut the potatoes in chips, wash, pat dry and deep fry in oil until golden brown.  Serve with tartar sauce or mayonaisse and lemon.
Cajun Spice Rice
If someone prefers rice and spices then this is the perfect dish to be prepared to substitute bread.  Rice is spiced with bell peppers, onions, bayleaf, and thyme.  All these are slightly caramlised in butter and the water is added (double the quantity of rice).  Cover the pan and simmer for 15 minutes.  A cup of rice (100 gms) serves four people.
Image credit: ifood.tv
5 Potluck Lent Meal Ideas For Office Party