5 Good Reasons To Make Dahi Vada This Holi

25 Mar 2011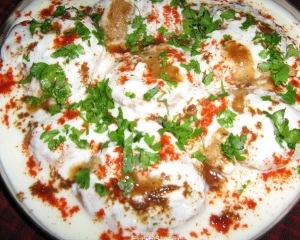 A  crunchy snack that is prepared in North India during festivals is populary known as Dahi Vada . It is one of the most commonly preferred Indian street snacks too. Indian festivals are colorful and remain incomplete without scrumptious recipes or grand feasts. The festival of colors, Holi is also accompanied by numerous lip smacking delicacies and Dahi Vada is sure to be included among them.But do you need to make it ths season? Read on...
Also known as Dahi Balles, these deep friend snacks are prepared in majority of Indian homes on the occasion of Holi. Dahi is the Hindi word for yogurt while Vada is a deep fried snack made using black lentils. The Vada prepared is immersed in sweetened curd and while serving garnished with salt and pepper powder.
A very easy to prepare lip smacking snack, you will feel the softness of vada blended with yogurt in your mouth as you enjoy it bite by bite. This succulent vada, will leave you with a myriad of varying sharp flavors and tickle your taste buds, triggering your appetite for more. It can be great as a cold appetizer as well as starter.
Powered by: ifood.tv
While the fact is that it is a deep friend snack, there are some hidden reasons behind eating this snack on Holi. Vada is made using black lentils, cumin seeds, ginger, green chili, cilantro leaves and salt while the Dahi is unsweetened curd or yogurt.
Read on to know 5 good reasons to make Dahi Vada this Holi.
1. A Healthy Snack.
Despite being fat rich snack, it offers you health benefits like calcium and protein. You can eat this snack while you feel tired after playing with your favorite Holi colors. Along with boosting your energy levels, you will get a chance to offer a treat to your taste buds.
2. Prevents Overeating.
Being a rich source of low fat yogurt, Dahi Vada can be used to retain your fitness regimen. You can use it as a snack. Never overeat. Try to use it as a snack between two large meals, instead of having it as part of your meal.
3. Reflects Indian Traditions.
Dahi Vada is a reflection of Indian traditions and is a must eat when it comes to Holi. So, prepare and enjoy the delicious Indian snack this Holi.
4. Keeps You Full.
This is very true. A piece of Dahi Vada helps you keep those hungry pangs away, thereby prevent you from overeating.a
5. Introduce Your Kids To Indian Traditions
If you are an Indian staying abroad, then make use of Holi to introduce your kids to the beautiful traditions of India. And what other snacks for Holi can replace Dahi Vada.
So, this time you celebrate Holi, be sure to prepare Dahi Vada. You already know the reasons.
Image Credit: Itslife.in
5 Good Reasons To Make Dahi Vada This Holi