Halloween Celebrations

11 Oct 2008


A traditional festival of ages, with a lots of changes during the years comes as Halloween to us in a reformed form. It is celebrated on October 31 every year.Let's visit the past and see where it all started…
History of Halloween

 
It's origins date back to the ancient Celtic festival of Samhain (pronounced sow-in). The Celts, who lived 2,000 years ago in the area that is now Ireland, the United Kingdom, and Northern France, celebrated their new year on November 1. This day marked the end of summer and the harvest and the beginning of the dark, cold winter, a time of year that was often associated with human death.
By A.D. 43, Romans had conquered the majority of Celtic territory. In the course of the four hundred years that they ruled the Celtic lands, two festivals of Roman origin were combined with the traditional Celtic celebration of Samhain. The first was Feralia, a day in late October when the Romans traditionally commemorated the passing of the dead. The second was a day to honor Pomona, the Roman goddess of fruit and trees. The symbol of Pomona is the apple and the incorporation of this celebration into Samhain probably explains the tradition of "bobbing" for apples that is practiced today on Halloween.
By the 800s, the influence of Christianity had spread into Celtic lands. In the seventh century, Pope Boniface IV designated November 1 as 'All Saints Day,' a time to honor saints and martyrs. The celebration was also called All-hallows or All-hallowmas (from Middle English Alholowmesse meaning All Saints' Day) and the night before it, the night of Samhain, began to be called All-hallows Eve and, eventually, Halloween.
Halloween Comes To America
As European immigrants came to America, they brought their varied Halloween customs with them. Because of the rigid Protestant belief systems that characterized early New England, celebration of Halloween in the colonial times was extremely limited. It was much more common in Maryland and the southern colonies. As the beliefs and customs of different European ethnic groups, as well as the American Indians, meshed, a distinctly American version of Halloween began to emerge.
Between 1920 and 1950, the centuries-old practice of trick-or-treating was also revived as it was a relatively inexpensive way for an entire community to share the Halloween celebration. A new American tradition was born, and it has continued to grow. Today, Americans spend an estimated $6.9 billion annually on Halloween, making it the country's second largest commercial holiday.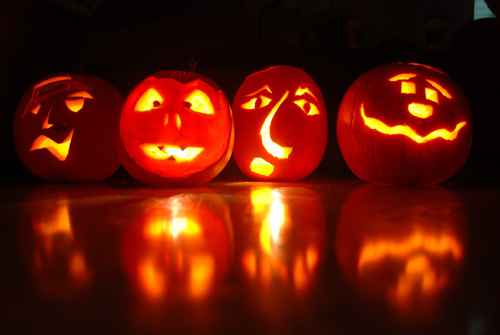 So, go on enjoy and make the most of the day. Don't forget the apple cakes, candies, and pumpkin pie either.
HAPPY HALLOWEEN!
Image Credit: expatwithkids, brightlightsearch, aldiko   
Halloween Celebrations