5 Scrumptious Dessert Ideas For The Holy Lent

21 Mar 2011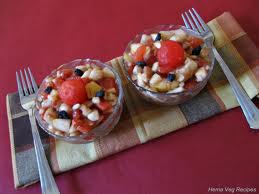 Holy Lent is the time for reckoning and giving up favorite things to honor the sufferings of Jesus Christ. Holy Lent season ends with Easter and is a period wherein people who are Catholics and even some Protestants fast and abstain from consuming meat, dairy products etc. The holy season of Lent, hence requires recipe ideas that do not use meat or dairy.
Dessert Ideas for Holy Lent
Given below are some terrific dessert ideas that can spruce up Lent dinners. These desserts are healthy and can be made with regularly available ingredients.
Dairy Free Applesauce Cake – Begin preparing this tasty dessert by blending well shortening, sugar and applesauce. Fold in flour, baking powder, baking soda, salt, brown sugar and raisins. Bake for 60 minutes at 375 degrees F.

Easy Fruit Salad – Fruits can provide much needed nutrients and energy during the days of holy season of Lent and fasting. A fruit salad would be very easy to prepare as well as delicious to eat during spring. Combine cut oranges, apples, pineapples and blueberries. Dress the salad with a mix of honey and lime juice.

Poached Pears – Pears are power house of nutrients and ideal as dessert for Lent meals. Simmer wine, water, vanilla pod and lemon juice for 5 minutes before placing peeled and cored peaches. Let poach for 8 minutes. Remove peaches and reduce sauce to one-third. Pour the sauce over peaches and garnish with mint sprig prior to serving.

Pomegranate and Banana Salad – On a plate arrange pomegranate seeds at the center and place banana slices all around. Sprinkle dressing of lime juice and sugar. This salad is very colorful and attractive. It is easy to make and highly nutritious.

Wacky Cake – In the cake pan mix together flour, cocoa, baking soda ,and salt. Mix in vinegar, vanilla, oil and water and blend very well. Bake at 350 degrees F for 35 minutes and cool before cutting into slices.
These dessert recipes are free from dairy products and eggs. Try them and have a delicious Holy Lent.
Image credit: quick-n-easyrecipes.com/
5 Scrumptious Dessert Ideas For The Holy Lent