5 Delicious Fruits To Eat On Sundays Of Lent

21 Mar 2011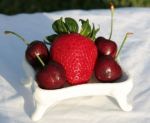 Sundays of lent are generally exempted from fasting rules. But, that doesn't imply that you can indulge in eating anything you wish to. The best foods to eat during the Sundays of Lent are fruits. Along with helping you stick to the fasting rules of the Lenten season, fruits help in retaining the energy levels and prevent fatigue. And since lent falls during spring, you can pick from a wide assortment of fruits that you will love to feast on.
Here are 5 of the yummiest fruits that you can relish on the Sundays in lent season.
1. Cherries
Cherries are available in the plumpest and firmest form during this season. The glossy, unblemished deep red colored fruits are a treat to the eyes and mouth. You can even try the Rainer varieties that come with a red and creamy yellow skin. Eat within one or two days of buying them as they perish fast. Wash them and eat at once. Being rich sources of fiber, antioxidants and Vitamin C, these fruits are ideal to render you the required level of energy during fasting.
 2. Strawberries
The firm, plum and fragrant shiny, bright red strawberries taste sumptuous when eaten fresh or canned. You can store them in refrigerator and use it for 3 days. Just top with powdered sugar and enjoy it. You can even use it to prepare milkshake, but use the non-fat version of milk. Serve in the fruit platter along with pineapple, water melon, kiwis or any fruit of your choice.
3. Grapefruit
The best of the grapefruits are available between late winter till early summer. The enormous citrus fruits can be just enjoyed as your breakfast along with honey. Choose the heaviest available in the market and enjoy it as such or make a sorbet and relish it. Filled with Vitamin C, these fruits render energy when you fast during Lent.
4. Kumquats
These small citrus fruits come with an edible peel and a bright color and delicately charming flavor that leaves you yearning for more as you eat. And what is best other than this Lent season to enjoy this fruit. Purchase it on Saturday and enjoy it during Sundays of Lent.
5. Kiwis
The nebulous, brown colored fruits have a lush green color hidden inside a hairy outside. Studded with marvelous tiny black seeds, [which of course are edible], the flesh of this fruit is vibrantly colored and is rich in taste. Rich with flavanoids, minerals, Vitamin C and fiber, these fruits help to keep yourself full during Sundays in lent.
Sundays of lent are essentially the time to eat and store the energy for rest of the fasting days of the season. So, choose a diet rich with fruits and vegetables and boost your energy levels so as to stick to your fast during this Holy season.
Image Credit
5 Delicious Fruits To Eat On Sundays Of Lent