5 Good Reasons To Include Holi Festival Food In Your Party Menu

18 Mar 2011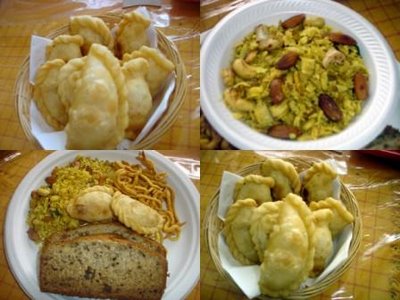 A festival to celebrate the onset of spring – Holi culminates in exotic flavors, vibrant colors and sweet indulgences. If you want to give the festive touch to your dinner party on Holi, explore the reasons to include Holi festival food in your party menu.
Holi festival foods comprise the sweet, the savory and the refreshing drinks all that are exclusively prepared keeping the colorful tradition in mind. From the sweet gujjias to savory papdis, the "high-spirited" bhang, chaats, kanji ke vade , dahi bhalle… Holi festival foods are a must-include for your Holi Party. Let us see why:
•    The colorful tradition: Holi represents colors and Holi festival food – from the appetizers to the main course(such as kesar chawal) to the desserts (mixed fruit salads, Gujjias) and the beverages(thandai) present themselves in vibrant colors.

•    Variety on offer: Having Holi festival food in your party menu doesn't spell the need to look for variation – because there are all kinds of flavors varying through the subtle to the intense. So the taste buds get a treat to enjoy the variety galore.

•    Get-together of traditions: Holi is celebrated nationwide in different forms, though the fervor is palpable in western India – Dwarka- related to the birthplace of Lord Krishna. Your dinner party including Holi Festival Food can represent a confluence of different Indian traditions, giving your guests "the taste of India".

•    The spirit of Holi: The spirit of Holi is all about playfulness in a riot of colors celebrating brotherhood,  harmony and community bonding and your Holi party should reverberate with the same spirit- which makes Holi festival foods an integral part of Holi party.

•    A proper culmination: Holi celebration should culminate in a Holi party with friends and family.And, what better way to reminisce the joyous festive moments than with Holi festival foods?

Holi festival foods are a treat for any gathering adding colors and flavors to a Holi party.
Photo Courtesy : frommypalate.blogspot.com  
5 Good Reasons To Include Holi Festival Food In Your Party Menu