Interesting Facts About Bhang – The Traditional Drink Of Holi

18 Mar 2011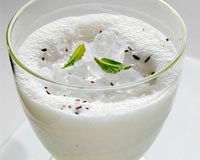 Bhang lassi is synonymous with any celebration related to Holi. Bhang lassi is a drink enjoyed by people all over India on occasion of Holi. Bhang lassi combines the intoxicating effect of bhang or Cannabis with lassi or sweetened thick yogurt. Mixing bhang with lassi makes a refreshing drink that not only cools the body but also the mind. Holi is celebrated in spring in the month of March or April and incidentally Cannabis is harvested at the same time. This might be the reason why bhang became an integral part of Holi celebrations in India.
Bhang is consumed mostly in northern India by people to work their appetite and lighten stress. Varanasi is the place where bhang consumption is maximum. While in Mathura, it was the followers of Lord Krishna who brought in bhang, in Varanasi, the renowned ghats witness preparation and consumption of bhang in honor of Lord Shiva. Bhang is a highly intoxicating drink, but it has many medicinal properties too. Bhang has been used for curing vomiting, dysentery, fever, sunstroke, skin problems etc.
Easy Tips For Preparing Bhang Lassi At Home
Preparing bhang lassi for Holi involves three distinct step – getting the bhang extract ready, preparing the lassi, and then mixing the 2 delicacies to make the intoxicating divine beverage. Fresh leaves of Cannabis is ground and bhang extracted by boiling them in sugar and clarified butter. The extracted bhang is mixed with khus syrup that gives it the characteristic green color. Pistachio and almond paste is added to bhang, making it a tasty and refreshing drink.
Bhang lassi can be made by mixing bhang with yogurt or lassi. Bhang lassi has additional ingredients like ginger, sugar and garam masala. Bhang lassi also follows similar steps of extraction of bhang. The bhang is then blended with chilled yogurt to make bhang lassi.
So, that's how you prepare lassi at home. Do prepare this delicious bhang beverage and serve it to your guests; however ensure that they are aware of its intoxicating nature, lest you are open for some unpleasant surprises from over the top guests!!
Happy Holi!!
Image credit: indobase.com/
Interesting Facts About Bhang – The Traditional Drink Of Holi