How To Plan A Spring Birthday Party With Healthy Foods

17 Mar 2011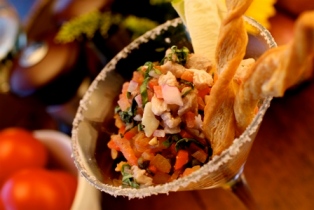 Plan a spring birthday party for your kid this time. You would love to make it a color blast with the spring of good health. So help yourself with a few ideas on how to plan a spring birthday party with healthy foods.
Remember, spring is symbolic of colors, so give your birthday party theme a colorful connotation by including healthy foods, which look attractive too.

So for party themes you could have a flower-themed party, with the little guests representing flowers of varied colors;  "Save the colors of the earth" to exhibit how each child can do his/her bit to preserve those wonderful colors of nature; "Sow a seed" theme where different colored fruit seeds can be brought in to be planted by each guest- to exhibit the love for the fruits of nature; or "Butterflies" theme with lots of small-time activities for girls to carve out their own butterfly wings out of cardboards; boys on the other hand can have a "Spring training" activity  with baseball-themed games.
There are ideas galore for spring birthday party themes and the healthy foods you choose, can correlate with your party theme. Here is a look up for healthy food options:
Citrus peas with mint
Peas cooked in olive oil sautéed with minced garlic gives immense flavor. For serving, transfer the peas to a bowl and garnish it with mint leaves, with a squeeze of lemon juice. Green peas for the lush green of springtime!
Garden Veggie Dip made of cream
Veggies and cream make a great combo. Chopped carrots, cucumbers- the great springtime veggies dressed in dill, lemon juice with a creamy dip of salsa, mayonnaise and butter milk; make a scrumptious snack item for a spring birthday party.
Fruits-to-flower cakes
Here is an attractive healthy food to add bloom to your springtime birthday party - A potted flower carved from fruits and celery stalks to make a wonderful birthday treat. For the pot-shape, you can take a pound cake and slice it accordingly. For the flower's stem, use celery stalks and trim them to make the leaves as well. As for the flower, take cantaloupes and watermelons and use flower-shaped cookie-cutters to bring the desired shape. Raspberries can be "fixed" at appropriate places on the stem to give the appearance of a bud.
Sunshine – with hummus and pepper:
Get the hummus ready with soaked chick peas that is mixed with olive oil and minced garlic and then pulsed in a food processor. Keep the hummus in a bowl separately and place it in the center of a platter. Take red and yellow papers and cut out triangular shapes to indicate the sun's rays to surround the hummus bowl. Now there is a ray of sunshine for your spring birthday party, which the children can enjoy with an ounce of health-glow!
Spring birthday party themes are aplenty and to spring up with ideas for healthy foods in tune with the season is but a matter of experimentation and creative exploration. So, break free from the cocoon and flutter your wings to reach the heights of springtime this spring!

Photo Courtesy:solariswholehealth.wordpress.com

 
How To Plan A Spring Birthday Party With Healthy Foods