Top 10 Dessert Ideas For Holi

14 Mar 2011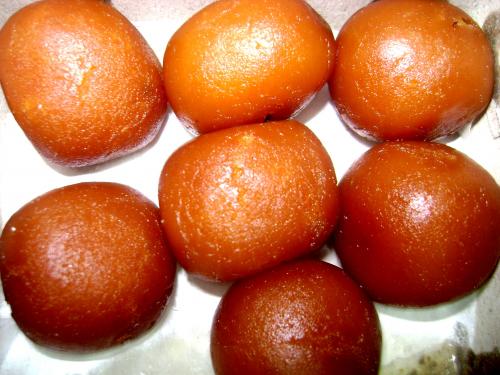 Holi, (also known as Basant Utsav) is the festival of colors is around the corner.  Most Indian households dish out elaborate  full course meals for the festival. If you are wondering about the different desserts that are served on this colorful festival then here are 10 wonderful and super delicious dessert ideas for Holi that you ought to try out…
1. Basundi
A delectable milk sweet made from thickened sweet milk peppered with saffron and nuts is a popular sweet dish in the Deccan regions of India. It can be eaten as is or as clubbed with puris or chapattis too.  
2. Gujjiya
Holi in the Northern states of India would be incomplete without the traditional gujjiya. These are prepared by deep frying stuff pastries in clarified butter. Khoa and dry fruits are the most commonly used fillings for gujia.
3. Kaju Barfi
You can't go wrong with this favorite. If people in your family love cashew nuts, then this is a must during the time of Holi. You can even flavor this up by making shahi pista barfi or perhaps adding some saffron and making kesar barfi.                                                                                                                                                    
4. Gulab Jamuns
These are India's version of the Leche fritters or fried milk. They can be made pretty easily if you pick up a readymade mix from the store. The dough is already pre-mixed with the sugar. The sugary syrup is the only thing you need to make from scratch. If you would like to start from scratch, then you will need to prepare a soft dough with khoa, milk powder, milk, and some essence.                                                                                                                                                 
5. Puran Poli
Another favorite from the Deccan, this dessert is essentially made out of gram lentils and jaggery. You can probably find several recipes on ifood.tv with different variations, so definitely give this sweet a try this Holi.                                                                                                                                                  
6. Malpua
These are pancakes and made out of crushing ripe bananas or even coconut.  This sweet dish is served hot and seasoned with cardamoms.  There are several variations to this sweet, so depending on what part of the country you come from, that will determine how you like this.                                                                                                                                                  
7. Ground Rice Pudding
This is a traditional Indian dessert made of rice and creamy milk. It is frequently flavored with delicate spices. Rice pudding is typically made by boiling ground rice with milk & sugar, flavored with cardamom. This dessert is also called Kheer or Payasam and very similar to the western rice pudding.
8. Rangeela Petha
Add a twist to the customary petha, a candy like sweet made from while pumpkins, by using various edible food colors to make an idyllic holi sweet. The multitude of colors will also be very symbolic of the festival. Pethas are a sweetmeat from the town of Agra.
9. Kulfi
This is to the Indian version of homemade ice-cream and a popular frozen milk based dessert during the summer months in India. It is made from the creamiest of milk and comes in a variety of flavors like saffron, cardamom, mango and coconut.
10. Semolina Pudding
More popularly known as 'suji ka halwa' in India, this dessert is made from semolina, clarified butter and sugar. If you don't enjoy spending too much time in the kitchen, this would be an ideal Holi sweet for you as it is fairly easy to make.
Enjoy these super delicious Holi sweets during this festive time of the year without a guilty conscience. Holi comes only once a year and it is quite OK to indulge once in a while.
Image credit - ifood.tv
Top 10 Dessert Ideas For Holi