5 Super Delicious Mardi Gras Wedding Theme Food Ideas
14 Mar 2011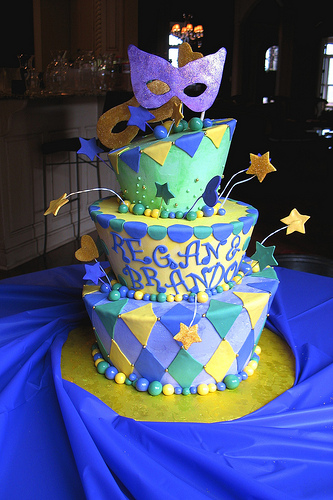 So, you have decided to celebrate your big day with the Mardi Gras wedding theme. This is a fun filled theme and can be a moment of great of fun for your guests too. Of course, you need to make sure the food your serve is in accordance with the theme. You can't have Mardi Gras going on everywhere and serving roasted chicken! Get into the spirit of the idea with food ideas that are simply jumping with festivities. Set the fun-filled tone from the time your guests accept their festive invites, till the minute they head off home with incredible party favors. At the dinner itself, decorate the tables with a lively carnival look and serve delectable Creole cuisine enthused by the home of the American Mardi Gras, New Orleans.
For drinks, up the fun factor by organizing  a mini bar where guests can try their hand at creating mint juleps, Hurricanes, and Creole Bloody Mary. This Mardi Gras-style wedding dinner is sure to be a hit!
Here are 5 super delicious Mardi Gras wedding theme food ideas.
Gumbo 
This is a must have. Gumbo is a stew that originated in Louisiana, is a Creole standby and extremely versatile. Ingredients can range from shrimp, chicken, sausage, shellfish, ham, oysters or any combination thereof. It has a wonderful rich flavor and texture. Tabasco sauce is always paired with gumbo so those with a fondness for spicy foods can be accommodated. Gumbo is at all times served with rice.
Jambalaya 
Another Creole must-have. It is a superb pot meal that has a little bit of everything. Very much like gumbo, this dish is also served with cooked rice, vegetables and any meat recipe you like. There are several ways that you can make this dish. You could try whipping up a Cajun style jambalaya which is more popular in the southern parts of Jambalaya.
King Cakes 
These cakes are a Mardi Gras ritual and were originally baked to remember the Three Kings of Europe in the late 1800s. King Cakes must have customary colors of purple for justice, green for faith and gold for power.
Shrimp Etouffee 
This is a Cajun dish and although easy to make it still needs some time and attention. The hard work is rewarded though, for what you end up with is the most wonderfully spiced and savory dish that is both filling and tasteful. To make Shrimp Etouffee crayfish and vegetables are slowly cooked with spices and served over white rice.
Beignets 
French word for 'fritter' are fried, puffed pieces of yeast dough. It tastes very much like a sweet dough nut but is square in shape and does not have a hole in the middle.
With these wonderful Mardi Gras ideas, the food at the wedding should indeed be spectacular.
Image credit - Flickr.com
5 Super Delicious Mardi Gras Wedding Theme Food Ideas