7 Easy Tips To Make Mardi Gras Cupcakes For Kids Party

11 Mar 2011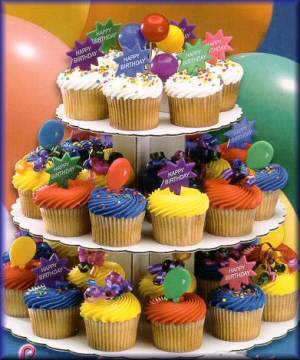 Mardi Gras cupcakes are smaller kid's version of big Mardy Gras king cake. Mardi Gras Party is a part of epiphany festival. Be it is a kids' party or a general get together, having cake and sharing it with friends is part of Mardi Gras convention. Cupcakes are small in size and it perfectly match kids' requirement.
What Are These Mardi Gras Cupcakes
Cupcakes made for Mardi Gras party must have three colors of Mardy Gras festival; these three colors are purple, green, and yellow. The presence of these significant colors will also teach the kids about the religious significance of this festival and these three colors. Mardi Gras cupcakes are wonderful learning items for the kids of their tradition and cultural heritage.
Kids' party is always extraordinary because kids are special and they must have all arrangement special in their party. Mardi Gras cupcakes ideas have to be kids' special as well. If your kid has planned for his Mardi gras party with his friends, you might be wandering about the best cake recipes for the occasion.  Read on the rest to know some handy Mardi Gras cupcake ideas  for making best cupcakes for your kid's party night.
How to make kids' special Mardi  Gras Cupcakes
It has often been observed that kids are gluten sensitive. Cupcakes for kids' Mardy Gras party must be made of gluten free items so on the next day these little angels remin fit and fine.
Instead of adding sugar in the cake, kids' cupcakes are best made by natural sugar substitute like molasses, honey, or by maple syrup. These natural items not only will add special flavor in the cupcakes, the cakes will be loaded with nutritious food value and low calorie counts.
You may add cashew nuts instead of almond nuts in the Mardy Gras cupcakes; almonds are allergy prone and often evoke food sensitivity in the children especially those are allergy prone and have food sensitivity.
Kids are fond of vanilla and chocolate flavor. As Mardi Gras cakes are special type without adding chocolate in it, you can add butter rum and French vanilla flavor in the cupcakes. Vanilla flavored cakes with Mardi Gras color will make great impression on the kids in party.
Instead of placing baby Jesus inside the cupcakes you can add some small gift in the cake. This will be a surprise for them and they on return kids will learn the significance of epiphany festival and thanksgiving days.
You should make all cupcakes of same size. However, bigger is the better option for kids but you will make better choice if you arrange large number of colorful small cupcakes instead of some big pieces. Here more the merry.
Mardi Gras is a holiday and to feel the true vibes of holiday party, you should select silver and gold cup colors. Cupcakes with Mardy Gras colors in silvery cup will be a fantabulous idea to grab kids' attention in on shot.
One more idea; if your time is short, and you do not want to upset you child, you may use boxed cake mix and canned icing of vanilla or strawberry flavor for quick preparation of the Mardi Gras cupcakes. The party will rock.
Image credit: ifood.tv 
7 Easy Tips To Make Mardi Gras Cupcakes For Kids Party