How To Effectively Use Gulab Jamun Syrup For Holi Desserts

11 Mar 2011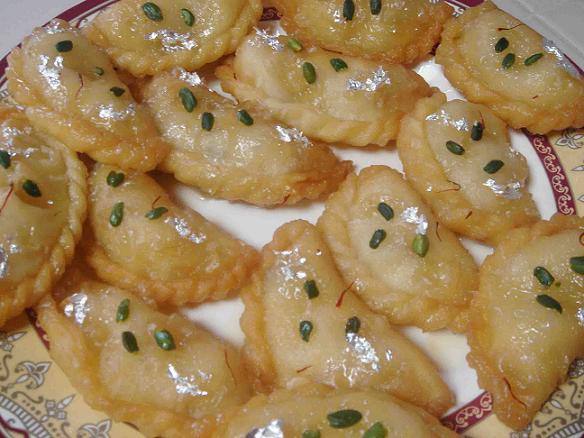 The sugary syrup accompanying the gulab jamun is prepared by dissolving 300 g sugar in 320 ml water. You can add saffron, powdered cardamom or even rosewater to enhance the flavor. However, the syrup is often made in excess quantities and you have to waste it. But this Holi, you can make use of this syrup while preparing various mouthwatering  desserts.
Similar to all other Indian festivals, Holi also will remain incomplete without sweets and delicacies. Some of the seductive Holi desserts include Shankar Para, Badam Puri, Gujjiya, Khoya Burfi, Puran Poli, Malpua and Kalakand, while Thandai and Shrikand are also Holi favorites.
All these sweets mentioned call for the use of sugar in some or the other form. So, why not make use of the Gulab jamun syrup in preparing these delicacies? Read to know more.
Reduce the quantity of condensed milk and sugar used for making Kalakand. Instead use the Gulab Jamun syrup to enhance the flavor and taste of the sweet.
The sugar syrup can be added in two different ways with Gujjiya. You can use it to prepare the filling for this sweet. Or else, deep fry the gujjiya till they turn golden brown in color, drain excessive ghee and then immerse in the Gulab Jamun syrup. Allow to immerse for a few minutes, take out and drain excessive syrup, top with fresh cream and serve immediately.

 
No Holi is complete without Thandai  . This is a delicious thirst quenching dessert prepared using almond, milk, cardamom, sugar, fennel seeds, poppy seeds, black pepper and rosewater. Avoid cardamom, sugar and rosewater and instead add the Gulab Jamun syrup in required amounts while preparing this dessert.

 
The diamond-shaped, deep fried dessert is a favorite snack of kids. Use the sugar syrup while preparing the Shankar Para dough or fry the diamond cuts and then soak them in this syrup. Take out after 30 minutes, drain excessive syrup using paper towels and serve immediately.
Prepare the badam puris  and soak them in the Gulab Jamun syrup, instead of preparing an exclusive sugar solution for immersing the Puris.
These are just few of the Holi desserts where you can use the Gulab Jamun syrup. Tickle your creative side and make this Holi more colorful.

 
Image Credit: indianshowbusiness.com  
How To Effectively Use Gulab Jamun Syrup For Holi Desserts