5 Fantabulous Holi Drinks For Your Party

10 Mar 2011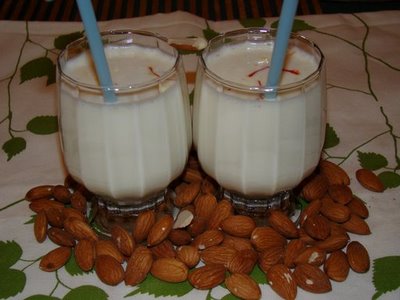 Drinks and  fun are synonymous on Holi, the Indian festival of colors. It is a festival of joy and mirth, entertainment and amusements, which increase manifold in accompaniment with traditional drinks. Do read on for a specil insight into some of the drinks that can make your Holi very special indeed!
Holi special drinks
Holi is a traditional festival and like all Indian festivals, it too has an exclusive flavor of its own. Holi special drinks are also unique and are usually preferred made at home.  
Bhang Lassi is one of the traditional drinks  of Holi fest. It a sweet lassi, made with sugar, malai, rose water, saffron, ginger extract, and bhang extract. Bhang lassi is best made with fresh cow milk and coconut milk and instead of water fresh green coconut water and coconut water is blended with milk. Bhang lassi is flavored with different spices. Bhang lassi generates slight intoxication and drowsiness therefore it is not recommended for the kids and pregnant ladies. Bhang lassi is often called as thandai.

 
In India we celebrate holi in the spring. As the party is always an outdoor one, the drinks should need to be  natural coolants. Those who do not like to have thandai, can try milkshakes. The drink is prepared with milk, rose-flavor, sugar, saffron, almond paste, and cashew paste forms a tasty natural drink ideal for kids and elderly people. Mothers-to-be are free to share it too. It is both tasty as well as a nutritious health drink.

 
Lemonade is a lemon flavored drink made with fresh lemon extract, sugar, and chilled water. For better taste often ginger extract and pinch of salt is mixed in it. The spicy tasting  drink in India  is often called Nimbu pani and sometimes  pepper dust is also added to the drink along with salt for better flavor and twist. Lemonade is a common drink and can be enjoyed by all guests, regardless of their age and health conditions.

 
Holi drinks special-4- green coconut water
The green coconut water is an excellent natural drink and does not require any special treatment for making it further tasteful. For holi, you can add some jeera(cumin) powder, a sprinkle of salt, and 3-4 drops of lemon extract in it along with 4-5 ice cubes. This tasty natural drink is refreshing and revitalizes body almost  instantly .

 
Holi Drinks special-5-raspberry lemonade
Raspberry lemonade is a wonderful natural coolant. Its pinkish glow matches with the fun and vibes of holi. It is easy to make the drinks with raspberry concentrate, crushed ice, lemon extract, white sugar, and 1-2 teaspoon mint extract. You can make this special  holi drink in just 2 minutes. This is one of the most favorite drinks for the kids, perhaps for its beautiful color.
Let's enjoy holi with these special drinks. Happy Holi!!!!
Image credit-ifood.tv 
5 Fantabulous Holi Drinks For Your Party