10 Easy Ideas To Make Royal Mardi Gras Cake

9 Mar 2011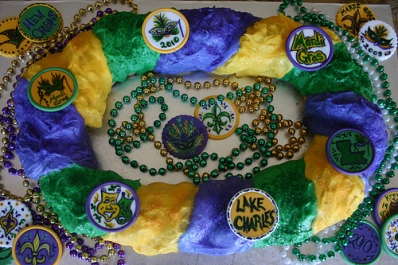 Mardi gras special is King Cake, they come in many versions. Each family prepares it in their own way depending on their tradition. A small plastic figurine is hidden inside the Mardis Gras cake, resembling baby Jesus, the person who finds it is considered lucky. Also he should make the next year Mardi gras king cake. Let's delve into various mardi gras cake ideas.
1. Brioche dough Mardis gras Cake
There are many versions of king cake, this is done using brioche dough, lemon zest, nutmeg and citron. It is in crown shape and decorated with three colors of Mardi gras that include green, gold and purple.
2. King cake with cinnamon rolls
Get 1 can of cinnamon rolls and roll it to look like a hot dog. Then connect the ends together to form a crown. Then you can use white icing to top and sprinkle colors to decorate it.
3. Lemon and Orange Zest added King Cake
It will be different from the normal cake, the lemon and orange zest used imparts a special fragrance to the cake. Colored sugar crystals are sprinkled over the cake to add beauty.
4. Butterscotch Morsels Cake
Butterscotch morsels are melted in saucepan and other ingredients are added to it to make the cake. Butter scotch filling and Sea foam icing make the cake richer
5. Margarine and sour cream King Cake
In a sauce pan, margarine, sour cream and salt are cooked in low heat till the butter melts. Add other ingredients to the mixture to prepare the cake. Colored frosting and colored sugar crystals are used to make it look good.
6. Traditional Mardi gras cake
Traditional Mardis gras cake is similar to coffee cake in flavor and texture. Cinnamon, nutmeg, bourbon, orange, vanilla are the flavors included to it. Also instead using plastic doll, a bean or a metal doll is used.
7. La Galette  des Rois
It means "cake of kings" in French and it is prepared in two versions. It is a flaky puff pastry with almond cream or frangipane stuffing in Northern France, whereas in southern it is ring shaped pastry with marzipan stuffing and colorful candied fruit topping.
8. Zulu king Cake
Though it is similar to the modern Mardi gras cake, shredded coconut, chocolate glazes and chocolate filling makes the cake a royal treat.
9. Filled King Cake
Many filling are used to make the cake taste rich that include pastry creams, sugared nut mixtures, fruit filling and sweetened cream cheese.
10 Cajun style King Cake
This cake is like small pastries, they are deep fried and many variety of glazing is used like citrus, rum or bourbon.
Based on your tradition and preference you can bake your Mardis gras cake. Hope these ideas will help you to come out with royal cake this time.
Image credits: birthday-party-ideas-101.com
10 Easy Ideas To Make Royal Mardi Gras Cake