How To Make Khoa At Home This Holi
9 Mar 2011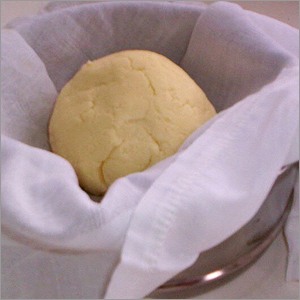 Khoa, a dairy product, is easily available at stores in India throughout the year but not so commonly seen by people living in the other parts of the world. This guide on 'How To Make Khoa At Home This Holi' will help all those who are looking to make dishes that call for this ingredient no matter where they live.
How to make homemade khoya 
Homemakers consider making khoa at home, as a tedious task because of the technicalities involved in it. But it is not as difficult as it seems so initially. Here are a few methods of making khoa at home.
Evaporated Milk Method
To make homemade khoa, you need a can of evaporated milk, dry milk powder and a mixing bowl.
Step 1: Add dry milk powder in the mixing bowl and pour some evaporated milk slowly on it.
Step 2: Mix the two ingredients together to make dough. Make it in the form of ball and keep it in refrigerator for 10-15 minutes.
Step 3: Grate this ball with grater to make khoa. It is recommended to consume this khoa within 24 hours. Grated cheese can be added to carrot halva.
Ricotta cheese
Khoa can also be made by using carnation dry milk powder, unsalted butter, and Ricotta cheese, which is easily available at most stores.
Step 1: Take a heavy bottom pan and melt 100 grams of unsalted butter on it. Take two cups of ricotta cheese and cook it for 10 minutes on slow flame.
Step 2: Add three cups of carnation dry milk powder into the mixture and stir constantly for seven minutes on medium heat. It is recommended not to use non-fat or partly skimmed milk powder for making khoa.
Step 3: When the mixture shows khoa consistency, remove it from heat and use it in any recipe, which calls for khoa. Make traditional Holy sweet Gujhia with it.
Condensing Whole Milk Method
To make one cup of khoa at home, collect 1.5liters of full fat buffalo milk, a non-stick pan, and a wooden spoon. Khoya made from this milk can be used to make burfis and laddus.

Step 1: Pour the full fat milk into a clean non-stick pan. This khoa making process takes time, hence; make sure that the milk doesn't burn because even a slight burn can affect the taste of homemade khoya.
Step 2: Boil the milk and reduce the flame, but continue heating the milk until the water content from the milk evaporates completely. Stir occasionally with wooden spoon so that it doesn't gather on the bottom of the pan.
Step 3: Continue heating the milk on slow flame until it comes to a semi-solid state called khoa.
Condensing Low Fat Milk Method

To make khoa from low-fat buffalo milk, follow the steps in given in the earlier method, but you need to remove the milk from the heat a little earlier, without evaporating its entire moisture content. This type of khoa is loose, and sticky in consistency and normally used in desserts like gulabjamun and carrot halva.
Tartary Method
Khoa used to make kalakand is made by using full cream buffalo milk. In this method, a little powdered Tartary is added in khoa to curdle it slightly, which gives it a softer texture. Make sure to take necessary care so that the texture doesn't spoil while stirring.
Now that you know 'How To Make Khoa At Home This Holi', use any of these methods and make Holi and other festivals joyful with some great khoa desserts.
Image Credit: esuppliersindia.com
How To Make Khoa At Home This Holi