Celebrate the Holidays with H&S Chocolates
8 Feb 2011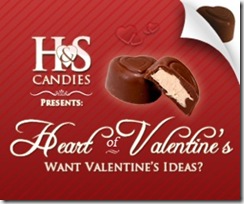 With the holiday season in full swing, it can get a little tiring trying to find the perfect gift for all those special people in your life. So go for H&S Chocolates!
These beautiful chocolates come in gorgeous boxes that are perfect for Christmas gifts. Each box has a different theme and a corresponding inspirational quote. The themes are Joy, Believe, and Celebrate. Each box contains 6 milk chocolates and 6 dark chocolates, which in my personal opinion, are delicious and compare with brands like Dove and Lindt. Each chocolate is shaped like a miniature present - how adorable!

So why not pick up a few boxes of H&S Candies for your loved ones this Christmas? Each box is only $5 and worth every penny. In addition, a portion of all sales will go to Samaritans Purse, a charity that provides spiritual and physical aid to victims of war, poverty, natural disaster, and disease. So not only are you getting a great deal on a beautiful gift for your family and friends, but also bettering the quality of life for someone who desperately needs it. That's the Christmas spirit!

For more information, check out the cool widget provided by H&S Candies below! You can use it to watch videos, enter a contest to win free chocolate, reflect on the true meaning of Christmas and more.

 
Celebrate The Holidays With H&S Chocolates