Picnic Foods Ideas For A Fun Valentines Day Date
8 Feb 2011
When you are planning to spend the Valentines Day by celebrating a picnic, then these
picnic food ideas for a fun Valentines Day date would become quite helpful. Valentines Day is the perfect occasion to be together in a romantic location. If you can convert this outing to a picnic, then it becomes more fun and exciting. While thinking on the Valentines Day picnic food ideas, you must give importance to light snacks or finger foods as they are easy to carry and don't involve any mess. On the other hand, you should also think of some rejuvenating drinks including sparkling wine or champagne to make the outing more romantic and memorable.
Valentines Day Picnic Food Ideas
·         Finger Foods – Finger foods are typically special for Valentines Day date. You can easily carry these light weight foods and moreover you can also feed these to each other, making the occasion more romantic. So, you can consider any small sized delicious fruit like strawberries, cherries, grapes etc along with packs of crackers and cookies. To accompany these foods you can carry dips or sauce pouches for convenient usage.
·         Desserts – Any type of dessert is a right choice for Valentines Day picnic food ideas, as long as they are convenient to carry. In this situation, cupcakes, muffins or even a chocolate heart for two are the best alternatives. You can also go for readymade packs of chocolate candies or assorted chocolate bars to brighten up the emotional moments.
·         Gourmet Foods – If you are thinking of something heavy and delicious picnic food ideas, then you can carry couple of gourmet food packs. The packaging of these foods is so good, that you don't have to think of spilling. At the same time, you can enjoy tasty meal in a most unusual natural environment. Before ordering for any food, learn about the favorites of you valentine.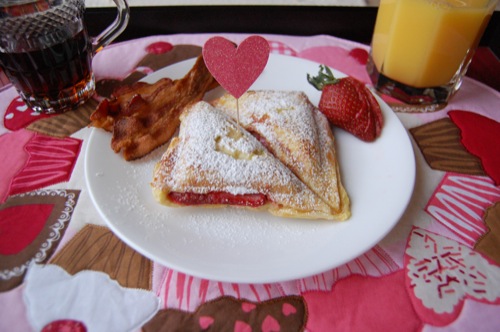 ·         Homemade Foods – For your Valentines Day picnic food ideas, nothing can be more special than a lunchbox full of homemade foods. If you are good in cooking, then you can prepare certain favorite items of your valentine for this special day. The advantage of homemade foods is that it always adds a personal touch to the celebration. Starting from heart-shaped cookies, various savory finger-foods to special cuisines – there is a variety of alternatives.
·         Beverages – Beverages are most essential for celebrating your Valentines Day. The best choice for this would be a bottle of red wine or sparkling wine or champagne. All these beverages are used for celebrating romantic occasions. However, you can also carry beer cans for convenience. Few bottles of soft drinks and drinking water should also be carried for thirst drenching purpose.
You might also search your brain to find some other innovative Valentines Day picnic food ideas for a fin Valentines Day date. However, don't forget to carry paper plates, disposable glasses, disposable spoons and forks and tissue paper, when you plan for a Valentines Day picnic.
Image Courtesy: azcentral.com, blogs.babycenter.com
Picnic Foods Ideas For A Fun Valentines Day Date