How to Decorate Valentine Cookies
8 Feb 2011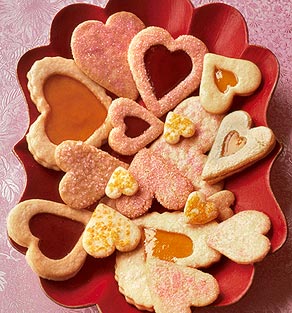 Cookies are a great way to celebrate Valentine's Day. Make some cookies, decorate them nicely, and package them festively and give them to your loved ones. Here are some tips to help you learn how to decorate Valentine cookies and you will see for yourself that decorating Valentine cookies is easy.
First of all, you must choose a recipe for your cookies. Sugar cookies and chocolate chip cookies are the most popular choices, so you cannot go wrong with these options.
You can prepare heart-shaped cookies. For this, you can use heart-shaped cookie cutters or a heart shaped cookie pan.
Mix up some thick icing in Valentine colors like pink, red, and white. Fill a pastry bag with the icing and then line the edges of your cookies with scallops, swirls and other icing designs. You can also ice the entire cookie with one color to create a smooth background for other decorations.
Use your pastry bag to write some romantic messages on the cookies, such as "I'm Sweet on You,", "Happy Valentine's Day," or "Be Mine," etc. Make sure that you plan out the size of your letters so they fit on your cookie!
Personalize your Valentine cookies by writing the name of the person for whom you are making these cookies!
Decorate your cookies with Valentine candy, such as small chocolate hearts, red licorice, conversation hearts or sprinkles. You can also decorate cookies with premade cake decorations such as candy flowers or hearts.
Package your cookies using pink, red or heart-covered cellophane bags. Fasten the bag with a piece of lace or red ribbon and make a pretty bow. You can also use regular sandwich bags if you do not have cellophane. Decorate these sandwich bags with little hearts.
Voila - you have beautiful Valentine cookies which anyone will love!
image credits : bfeedme.com
How To Decorate Valentine Cookies