Top 10 Valentine Cookies
6 Feb 2011
Our local cookery club organized an essay competition prior to the cookery show; where the contestants were asked to write about top 10 Valentine cookies. The winning entries from this essay competition were considered for the cookery show. I also actively participated in the essay competition because valentine cookies are my forte.  And fortunately my entry was selected in first place, so thought of sharing the ideas of 10 of my favorite valentine cookies with all my friends.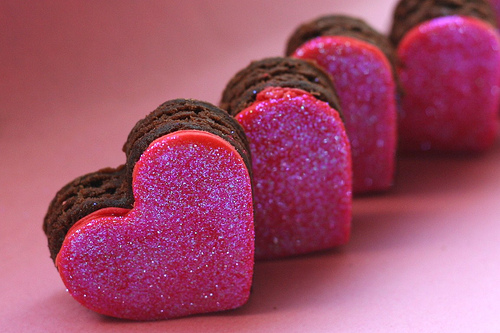 Heart Cookies: I would say that any Valentine day celebration is baseless if you fail to salute the loving hearts. I love everything about these heart cookies because it amazes me with its alternating taste. Other than the regular ingredients I also use cinnamon and raspberry jam to square off this exceptional Valentines cookies. Trust me you can never go wrong with it.
Shortbread Cookies: I always try to prepare and serve these Valentine cookies every year. These buttery cookies can be shaped in any form, but I always prefer to bake heart shaped cookies. I think these Valentines cookies gain their identity from raspberry jam and grated white chocolate sandwich, which also lends a touch of elegance to them.
Mocha Shortbread: These Valentine cookies exude warmth and elegance. My experiences have made me wiser to say that adding little bit of Dutch processed Cocoa powder to the batter will impart a rich chocolaty flavor to the cookies. Also, you can work out by replacing the all-purpose flour with cornstarch in moderate amounts. Trust me the final product will give you immense satisfaction and equip you with the courage to say that these are some of the best Valentines cookies you have ever baked.
Oatmeal Cookies: Oatmeal and Valentine cookies?! Are you crazy yelled Ron, when I told him that oatmeal cookies can be perfect to be served during Valentine's Day? But today he seems to be the greatest promoter of these cookies. The oatmeal cookies are chewy and crisp.  I enrich them with lots of dry fruits, and chopped nuts. Ron says that these are one of the best Valentine cookies he has ever tasted.
Peanut Blossom Cookies: Let thousand peanut cookies blossom during this Valentine's Day. Even if not thousand, you can try preparing and serving at least handful of these special Valentine cookies for your loved ones. The peanut butter cookie is adorned with chocolate kiss that delivers a rich impact to these cookies.
Chocolate Chunk Cookies: I know most of you are aware of the existence of these sweet and elegant Valentines cookies. If you are in mood of observing a chocolate special Valentine's Day then there aren't many good options than serving these buttery chocolate cookies.
Amaretti Cookies: Amaretti? Yeah, you might have guessed right it has got an Italian connection.  The Amaretti cookies are prepared by combining equal parts of almonds, sugar, corn syrup, and glucose. Unlike many other regular Valentine cookies, these cookies can be enjoyed at any time. Instead of serving them during snack, you can team them with ice cream, mousse or sherbet and serve it post the romantic Valentine meal.
Sugar Cookies: I feel a Valentine celebrations will be incomplete if you forget to serve a crunchy sugar cookie. I can bet it that these special Valentines cookies will be a sure hit with your loved ones.
Snickerdoodles: These are old fashioned Valentines cookies which sweep you with its simplicity. I am damn it sure that your guest will be impressed with your choice of these sweet special lovable Valentine cookies.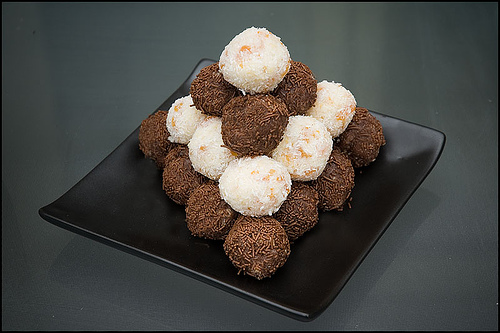 Rum Balls: Some may disagree with me that these are not regular Valentine cookies; instead they are more a sort of adult indulgence. Yeah, you are right the rum balls are the thing of adult indulgence but trust me you can never go wrong with your choices.


I wished to write more about special Valentine cookies, but the title announced by cookery club restricted my fingers.  Hope you agree with me on these 10 Valentine cookies.
Image Courtesy: epicute.files.wordpress.com;  farm6.static.flickr.com ; scarletwords.com
Top 10 Valentine Cookies