Top 10 Valentine Day Party Ideas for Couples

19 Jan 2011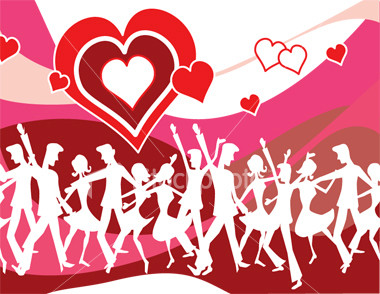 Roses, Candies, your loved one with you, and each day is a Valentine's Day party. If you are in love, my mum had said to me, you will not need the Valentines Day party ideas, because, you will be living this party each moment. Though this is true, there is a special joy in organizing a Valentine's day party with your loved ones and friends. To make your valentine day party a success, have a dekko at the few of my favorite ideas for Valentine's Day party:
Invites- Make Invites on pink, red sheet, all with sequins and heart cut-outs. Write the invite in a poetic form keeping the essence of Valentines Day in mind. You can also include pictures or caricatures of each individual within lovely frames!
Decoration- Many think that the Valentines Day Party has a cliché Red and pink ribbons theme, you could do it a little differently and incorporate flowers, cards, and candles to "loven" up the venue! 
Food- This is the day of love. The culinary Valentines Day Party ideas are of heart shaped cakes, muffins and pies. Don't forget heart shaped candies, chocolate cherries and those strawberries with whipped cream. It would be a good idea to get a few fortune cookies with love sweet nothings in them, let each one have his love flow!
Games- This is the heartbeat factor of any valentine's party, think of all the cutie, mushy couple games and play 'em. Have the paper dance (where the couple has to dance within the newspaper's area and fold it each time the music goes off), the Compatibility quiz, Love hunt(a version of treasure hunt with lovey-dovey clues), and of course the balloon game. In this game, there is a balloon that the couple has to pass to each other without using their hands, so it's all touchy feely!!
Music- The list of Valentines Day party ideas would be incomplete without the inclusion of the sweet melodies of love. Prepare a nice love songs serenade CD before the party, with all the best love themes. Nothing like a nice cuddly dance to the tunes of love in a Valentine's Day Party
Movies- If there is a sleepover planned; you can arrange for some of the best love movies and watch it with your sweetheart, as will the others. In today's time, it is just lovely to sit with your loved one and watch a romantic flick!



 

Drinks- Be creative, and shake up mocktails and cocktails with shades of reds and pinks. Name them also with cupid like names! Go for Love fuel instead of Bloody Mary or Head over heels for the Cocktail Screwdriver!
Party Favors- Arrange for a few Valentine Day Party small gifts, like cut-outs, confetti, flowers, candy hearts, cupid arrows, 2 odd lines of love poetries and make a love hamper to give to your friends. This is a party Favor Valentines day party idea. 
Read outs- One of the cutest Valentines Day Party ideas, ask each person present to write something sweet for their better halves and have them read it out.
Theme- Stick to the theme everywhere, have the menu card spelt out on a beautiful heart shaped card. Cook up the delicacies like salads and sandwiches with couples working on it together.
Sigh! I can't wait for this day to dawn! I have hosted tons of these parties when I was unmarried till last year, now I really hope I can put it to practice this Valentines day with my hubby!! 
Image Credit- www.hotfrog.com.au
Video Credit- iFood.tv
Top 10 Valentine Day Party Ideas For Couples