Superbowl Party Ideas: Ways to Organize Superbowl Theme Party
It is now time to throw a Super Bowl party once again. Why not organize a themed party this season? Here are a few ideas that will help you throw the party efficiently.
Invitation
Start with a bang, take a cardboard draw football and decorate the card and write catchy words like "Get ready for the roar," and at the back of the card, mention the date, timing and other details of the party. You should get the right set of crowd to make your Super Bowl party successful. So be creative in designing an invitation, this will help you to lure more people. Use your team color and team logo in the card to make it even more attractive which is one of the best Super Bowl party ideas.
Decoration and Costumes
Decorate the outside, the entrance and the party space. Get Super Bowl party ideas online which offer many ways to decorate your place. You can get lot of football related items like football printed cups and plates; napkins displaying the color of your favorite team and lots of football shaped balloons. Ask everyone to wear the favorite team color dress and choose anyone among the crowd to be the referee. If you think that you can be the good referee for the party, get white and black striped shirt and trousers. Arrange for some space inside the party hall for goal post where guests can throw all cups and plates.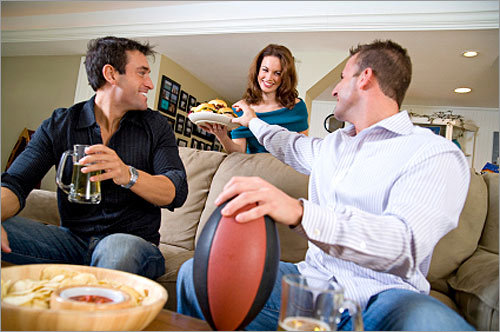 Food
No Super Bowl party becomes complete without a cheering buffet. Have lot of ice cubes in a cooler and serve many cans and bottle drinks to your guest; the cold drinks will be very refreshing and make them feel energetic. Get plenty of snacks and food for the guest, so they can have as much as they can and do not bother much about the leftovers. Chips are the ideal snack to offer at Super Bowl party followed by seasoned beef, refried beans, spicy nachos and much more. Chicken burgers and other variety of juicy burgers will be liked by the crowd, so arrange for it.  Sandwiches and Desserts can also be served at the Super Bowl party.
Thank friends for coming
Thank all guest for making your Super Bowl party ideas a huge success. Create an online album with hilarious pictures of your guest with football and other funny postures. And do all sort of animation to the pictures to make it interesting and comical.
So get ready to have a blast even as you play host by arranging a Super Bowl theme party.
Image credits: dimpleprints, boston
Superbowl Party Ideas: Ways To Organize Superbowl Theme Party