Perfect Chinese New Year Menu
13 Jan 2011
The Chinese New Year is almost here and this is the right time to plan  a perfect menu. When you decide on the  food items,  you must pick the best choices . Here is my choice of Chinese New Year menu, which you might try on at home or at any authentic Chinese restaurant.
Chinese New Year Menu
 For the appetizers, I'll select the steamed pearl balls and prawn dim sums. The steamed pearl balls are prepared from minced pork meat, egg yolk and a combination of special Chinese spices. The balls are rolled in rice and then steamed inside a bamboo steamer. The prawn dimsums are another type of Chinese delicacy, which is basically a wonton stuffed with prawn meat and other spices.
 You cannot have a perfect Chinese New Year menu without a soup. In this respect, my choice would be the chicken gow gee and corn soup. This mouthwatering soup is prepared with gow gees and corn kernels, where the gow gees are filled with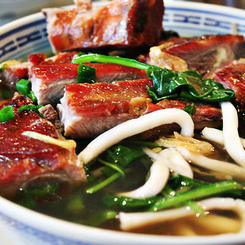 minced chicken and essential spices.
There are several popular and delicious Chinese new year food  items for main dish. Among them, my selection will be the festive rice and barbeque pork and noodles. The festive rice is actually mixed-fried rice having prawn, eggs and barbeque pork cooked in savory Chinese sauces. The barbeque pork and noodles is also prepared with barbeque pork, but the dish is cooked in a different way and includes authentic Chinese spices.
In this perfect Chinese new year menu, I'll include two side dishes; one is ginger steamed baby snapper and the other is glazed Chinese chicken. The baby snapper preparation is believed to bring good luck for the coming year. The hot and spicy ginger taste and flavor really adds a zing to this dish. The other one is a baked chicken recipe, where the chicken is glazed with Chinese spices and rice wine.
The dessert items are essential entries to complete your Chinese new year menu. Here, I found out two extremely delicious sweet preparations in traditional Chinese style. These are – almond jelly with fruit and deep-fried ice cream. The almond jelly is prepared from almond extract, pure cream, vanilla pods and caster sugar. The chilled jelly is served on a platter of fruit salad. The deep-fried ice cream is another yummy dessert, where the ice cream balls are crumbed evenly and then deep fried in oil.
 Chinese tea is a must for the perfect Chinese new year menu. You can also add your choice of authentic Chinese beverages  to this list.
Go on and gorge on the delicious food now that you know what to expect from a Chinese New Year menu. delicious
Image Courtesy: sfist.com , photograzing.seriouseats.com , herdaily.com 
Perfect Chinese New Year Menu