Popular Chinese New Year Food Traditions

13 Jan 2011
February 10, 2013 is the day when the Chinese New Year will begin. In preparation for the big day, the Chinese not only enjoy a two-week long celebration but also eat a lot of food and follow a number of food traditions, which has significance in different aspects.
Seafood
According to Chinese food traditions, prawns signify liveliness, raw fish means good luck and dried oysters are meant to be good food for the coming year.
Jai
This is a vegetarian Chinese dish, which is cooked with vegetables like ginkgo nut, black moss seaweed, bamboo shoots, vermicelli, dried bean curd and scallions. Together, these ingredients indicate good fortune for the family.
Tangerines
For the Chinese, tangerines as well as oranges represent happiness in abundance. People display tangerines in their home and guests also give it as gifts to the host.
Candied Fruit
People often place a tray of candied fruits in their home on New Year's Day. Candied fruit trays are called "Trays of Togetherness" and these represent a sweet new year for the family.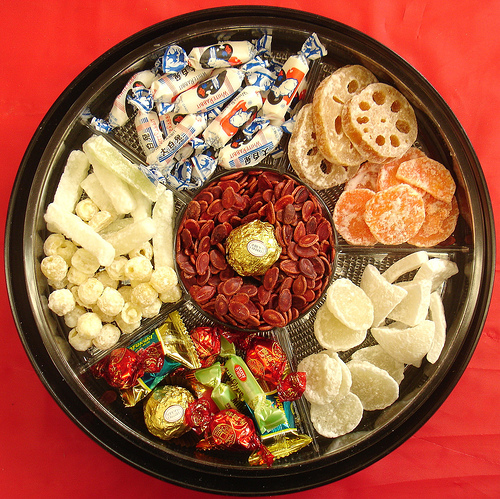 New Year's Eve Dinner
It is important for a Chinese family to have their dinner at home on the New Year's Eve, in the company of family members. The Chinese prefer to eat at home than to visit a restaurant on this occasion. After the New Year's Eve dinner, family members stay awake through the night and this tradition is called 'Shou Sui."
Other Articles You May Like To Read:
1. Top 10 Chinese New Year Desserts
2. 5 Chinese Habits On Chinese New Year
3. Traditional Chinese New Year Foods
Image Courtesy: utoledo, marshmallow92, novice-baker, blameitonthefood
Popular Chinese New Year Food Traditions