Makar Sankranti Food Across India
7 Jan 2011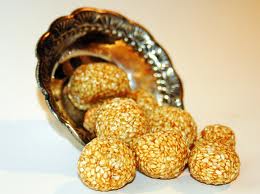 If you want to enjoy Makar Sankranti then we can tell you about some interesting Makar Sankranti food across India.


Makar  Sankranti   is  the harvest festival , which is celebrated with same fervor  and interest throughout India. Makara Sankranti is celebrated when sun enters into makara rashi (Capricorn) while traveling on the celestial path. As you all know that India is a country of multi-cultural hues, there is variety in celebrations too.  The same variety can be observed in foods too. Here are some popular Makar Sankranthi foods enjoyed throughout India.
Ariselu:  Ariselu is special Makar Sankranti  food enjoyed in Andhra Pradesh and Tamil Nadu.  It is the rich dish, where the rice and jaggery mixture is kneaded into the dough and fried like poori or chappathi using ghee.
Ghevar: Ghevar is a traditional Rajasthani Makar Sankranti food enjoyed by people of Rajasthan. Ghevar is prepared from oil, flour and sugar syrup.  People also enjoy Malai ghevar and Mawa ghevar.
Ellu Bella Burfi: Ellu Bella burfi is enjoyed by people of Karnataka on the occasion of Makar Sankranti.  Ellu Bell burfi is prepared by mixing white sesame seeds, fried crushed groundnuts, coconut and jaggery.  Kannada women serve these burfis with a saying "Yellu bella thindu olle maathadi" which translates to 'Eat the mixture of sesame seeds and jaggery and speak only good'.
Gul Poli: Gul Poli or Jaggery stuffed bread is the popular Makar Sankranti food enjoyed by the state of Maharashtra and surrounding states. Gul poli is enjoyed with Shrikand .
Appalu: Appalu is a popular South Indian Makar Sankranti food enjoyed in Tamil Nadu and Andhra Pradesh. This dish is prepared by combining coconut, nuts, jaggery and rice flour.
Chikki: This is a popular Makar Sankranti food enjoyed by the people of West Indian states. Chikkis are sesame squares which are prepared using sesame, crushed peanuts and jaggery.
Til Gud: Til gud or sesame ladoos or sesame balls are popular Makar Sankranti food enjoyed by the people of Maharashtra. The til gud is prepared by mixing jaggery, and sesame seeds.  People give til guds to each other and say 'til-gul ghya, god god bola' which means 'accept these tilguls and speak sweet words'.
Til Gajak: Til Gajak is dry sweet which is enjoyed during Makar Sankranti. Til Gajak is sesame candy which is prepared using sesame seeds and jaggery.
Kichadi: Kichadi is a special Makar Sankranti food which is enjoyed throughout India. This dish is prepared using pulses and rice.
Kheer: Kheer is a popular Indian dessert which is prepared and served during all special occasions. It is prepared by using milk and rice.
Undhiyu: This a special Makar Sankranti food enjoyed by people of Gujarat. This dish is prepared by mixing all the available winter vegetables. It is mostly enjoyed with rice.
Pongal: Pongal is a special Makar Sankranti food enjoyed by the people of Tamil Nadu. Two types of Pongal are made: Ven Pongal and chakkara Pongal. Ven Pongal is spicy Pongal which is enjoyed with pickle and chutney. Chakkara Pongal is golden sweet Pongal prepared using jaggery and rice. 
Image Courtesy: t2.gstatic.com
Makar Sankranti Food Across India