How To Ensure A Flawless Holiday Meal

7 Jan 2011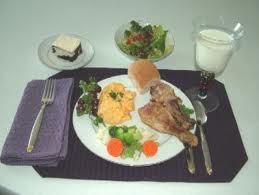 Holidays are best enjoyed with flawless holiday meals. Ensuring such meals might seem to be a daunting task to many but a little bit of creativity and some excellent cooking tips can ensure a flawless holiday meal.
Bad meals during holidays can spoil the entire holiday spirit and hence ensuring a flawless holiday meal becomes all the more vital for having a fun filled holiday. Given below are some tips to get the long awaited occasion right:
The first and foremost tip is to plan in advance. A perfectly planned meal would have nothing going wrong with it.

The next thing is to decide what to cook for the meal. You can try out new recipes or even perfect your old ones for the big day.

Buy all ingredients and other items required to prepare the dishes you have chosen for the flawless holiday meal. Double check on all the items and preparing a list might help.

Buy only what is needed, but do not be very frugal. Prepare your grocery list according to number of people and number of dishes in the menu.

Plan your meal to the last detail including list of guests, cooking utensils, serving dishes, cutlery that would be needed, glasses etc.

Find out about special dietary requirements of any guest and ensure that the meal accommodates everyone invited.

Try and use non-stick vessels for all your baking needs since these are less messier and can save up on cleaning time.

Time all your dishes and begin well in advance for ensuring a flawless holiday meal.

Check all cooking appliances for capacity and working conditions.

Account for all the serving dishes, plates etc while planning layout of the table. Make sure that the table is equipped with necessary condiments like salt, pepper, butter, rolls etc.
In order to ensure a flawless holiday meal, be prepared for accidents. Accidents can happen anytime like while cooking, serving etc. They can happen to anyone, even to the most experienced cooks. Hence be ready with plenty of wipes and do not forget to wear hot pads.


Image courtesy: northadelaide.rotaryaust.org/
How To Ensure A Flawless Holiday Meal