PASCHA-the Great and Holy Feast
Romanian Easter Eggs-beautifully hand painted. Greek traditional easter treats prepared and kindly offered by the Pendeli orthodox monastery of Transfiguration. by stephmel
Orthodox Easter Sunday will be celebrated on April 27, 2008. 
Uskrsnja - HAPPY EASTER!  by svetslike - Serbian Orthodox Easter-http://flickr.com/photos/svetslike/
Since the date of the Orthodox Easter is based on a modified Julian calendar and the Western world uses the Gregorian calendar, the festivities do not usually occur at the same time as other Christian Easter celebrations.  Last year both fell on April 8.
In 2008 Easter is celebrated by many Orthodox Christians on April 27, with many traditions that make the holiday of Easter in each country different than Easter celebrations in other lands.
Special foods and traditions mark the season as uniquely.  The history of Greece traces back far past the beginnings of Christianity, but from the very earliest days of the Christian faith the Islands of Greece and the Greek people have embraced these beliefs and made them part of the Greek heritage. Of all the Christian feast days, Easter is the greatest time for foods, feasting and celebration to people in the Greek Orthodox - and this is similiar in Serbia, Romania, Bulgaria, Russia, Ukraine, Cyprus, Egypt, Ethiopia, UK, US, and many European and Middle Eastern Orthodox Christians etc.
Tsoureki - Greek Easter Bread
 
Number of Servings: 10-12
Prep Time: 5 hours
Skill Level: Average
 
Ingredients:
 1 cup milk
1/2 cup butter
1 package dry yeast
1/2 cup sugar
1 teaspoon Salt
2 eggs, beaten
4 tablespoons orange juice
1 tablespoon grated orange rind
2 teaspoons ground anise seed or 1 tablespoon mahlepi
5 1/2 cups flour
Red-dyed Easter eggs

Glaze:
1/4 cup Slivered almonds
2 tablespoons sugar
3 tablespoons orange juice

Instructions:
1. In a small saucepan, combine the milk and butter over medium heat.
2. Stir until butter melts, then pour into a large mixing bowl.
3. Allow to cool until just warm, then add yeast and sugar, mixing well.
4. Add the salt, eggs, 3 tablespoons orange juice, orange rind, anise seed or mahlepi.
5. Sprinkle in the flour, stirring constantly, until the mixture is moist, but not stiff.
6. Turn out onto a lightly floured board and knead well for about 10-15 minutes.
7. Place dough in a grease bowl and brush the dough with melted butter.
8. Cover bowl and place for a few hours until dough is doubled in bulk.
9 Punch the dough down and divide into 2 loaves. Divide each loaf into 3 parts and roll each into a long rope about 10" x 2". Braid the three ropes together; pinch to seal the ends if leaving long, or join together to form a long round loaf. "Nest" the Easter eggs in the center of the dough.
10. Repeat with the other half of the dough to make a second tsoureki.
11. Place loaves on a cookie sheet, cover, and let rise another hour until doubled in bulk
12. To prepare the glaze, mix orange juice, sugar, and slivered almonds in a small bowl.
13. Preheat oven to 375 degrees and bake loaves for 15 minutes. Remove from the oven and brush with prepared glaze.
14. Return to oven and bake for another 20 minutes until golden brown.
 
Helpful Hints:
 You can usually find mahlepi in specialty foods shops. This bread is a favorite at our house for Easter. Also bake it for any celebration (without the Easter eggs!) or for a special brunch.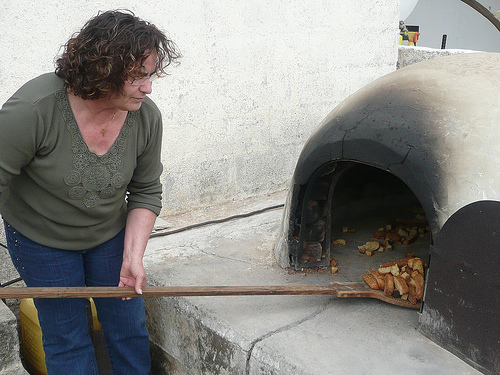 Tradtional way to bake Tsoureki
Easter Lamb on the spit
Often pigs are also cooked on the spit, and in Greece Kokoretsi sausages are made.
Prebranac

Prebranac

I do the beans a bit different each time, you can use any mixture of dry beans.  Sometimes I use smoked ham shanks, other times I just use smoked pork that I get at the Bosnian Market in Oakland, but my favourite is to use a pound of Schaller & Webber Double Smoked German bacon andsmokey Kielbasa from the Polish market.  It is available from better markets.  I buy it at the Polish Market in Concord and also from the AG Ferrari deli at BevMo in Walnut Creek. 

Musts are:  Vegeta and Smoked Paprika and the smoked pork or double smoked bacon.  Vegeta is available at Eastern European Markets. 

 Mary-Anne's Serbian Style Beans (Prebranac)

1 cup Perano Beans
1 cup White large beans (Great Northern)
1 cup red beans
or 1/2 cup each 5 or 6 different dry beans, I use scarlet runners, black beans,
gigandes, etc.  But I have made it just with the Perano beans and it
is excellent.  They are available at Latino or Mexican Markets.  Excellent meaty bean and similiar to the pale yellow bean in the former Yugoslavia.

Cover with water soak overnight

2 medium onions diced
2 doz large mushrooms sliced*optional
1 tab minced garlic
2 cups red wine
2 cups beef broth

Wilt onions and mushrooms in a little oilive oil or pan drippings
Add broth and red wine
simmer until reduced

Drain and wash beans after soaking over night.
Add the above mixture of wine, broth, mushrooms, garlic, and onions.

Then add the following:

3 stalks of celery including leaves diced
3 large carrots diced
1 large red pepper diced
2 heaping tsps Vegeta or more to taste
2 heaping tsps Smoked Sweet Parika
2 heaping tsps Smoked Hot Parika
3 tabs minced flat leaf parsley

I have also used meat drippings duck, pork or beef (could use any meaty
stock) can be added to the beans for a richer flavour

Water to cover
Simmer for several hours until tender.

Serve soupy or cook down to just beans. You can also place in
earthernware or clay pot and put into the oven.

I often add some sliced browned sliced garlicky kielbasa
or a 1# diced double smoked bacon (I use Schaller & Webber)
The real secret to this bean dish is the which is made by atypical "finish sauce":
4 tablespoons of flour
fried in
4 tablespoons of fat such as bacon drippings
gently cook until golden brown. 
Add this to the beans at the end. 
Stir into the beans and cook a bit longer. 
This step which is a bit like a roux makes the beans creamy and
wonderful.  It reallllly adds to the flavour.

There are dozens of recipes that are popular for Pascha.

 
PASCHA-the Great And Holy Feast