7 Suggestions For Non-Sweet Holiday Food Gifts

23 Dec 2010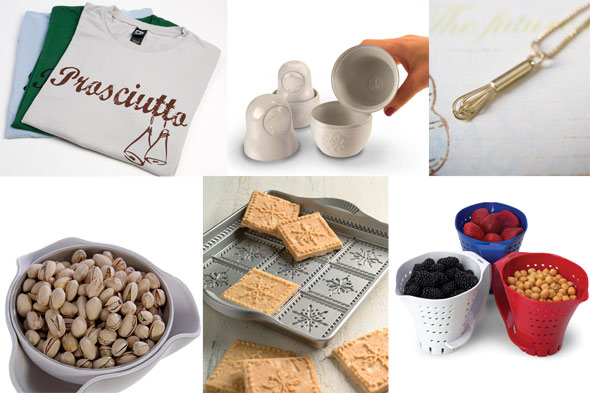 The holiday season is in full swing and everyone is busy either giving or receiving gifts. One of the main issues that one faces during this season is what to gift your friends and family. Here are 7 suggestions for non-sweet holiday food gifts, which go beyond the sweet-tooth indulgences and are unique in themselves. 

•    Chai Tea Mix : A hot cup of tea during winter is desirable but warmed up with the spice of cardamom, pepper corns, fennel seeds, cloves, coriander seeds, candied ginger, cinnamon stick is simply amazing as these go into brewing with loose black tea .These dry ingredients can be placed in tea-bags with instructions on brewing. Now a beverage spiced up with variety as a flavorsome and fragrant holiday food gift, any better way to warm up?

•    Personal Tea trends : As a non-sweet holiday food gift, tea 'steeps' in fame. Here, spice is the variety of the tea-gift. With cardamoms, peppercorns and cinnamon to make one blend; dried orange peel, cinnamon bark and black tea as  another variety of tea blend; dried lemon peel, dried ginger, and green tea rendering the green-citrus blend; rooibos tea, dried lavender 'flowering with fragrance, as the blender's choice...Well, for packaging you could exploit your creative juices to blend well the flavor of the beverage.

•    Homemade vinaigrette : Vinaigrette, which emerges  as the choicest 'dressing sense' of many a recipe, delivers as a fantastic idea for holiday  food gifts. For the vinaigrette, there is Dijon mustard, minced garlic, apple cider vinegar, honey, salt and pepper which 'makes the dressing'. The packaging will require condiment jars, parchment paper(cut into circles of size slightly bigger than the lid of the jar), a string to tie the parchment paper around the jar. Once the vinaigrette is ready, it is poured into the jars through funnels, and then sealed with the parchment paper and refrigerated. Little jars sealed with a surprise for a non-sweet holiday food gift, and oh, for the glee of being gifted!

•    Homemade cocktail mixers :  Holidays are incomplete without the swirl of cocktails. The shake, or the stirring, cocktails make awesome holiday food gifts. You could choose from roasted cranberry-clove mixer (with ground cloves sprinkled over cranberries and roasted and mixed with the heated sugar water-mixture) or the Clementine sugar mixer. The cocktail mixers once ready go into canisters for packaging.

•    Quick bread in a bottle : Bread, the chief bake of all bakes, is a staple food. So, how about surprising your friend with the dry ingredients of chocolate chip oatmeal bread as a holiday food gift? Fresh home-made bread, can make you feel at home with the festivities. Quart-size jars or milk bottles fit the gift package as pippin.

•    Doggie treats : In the rush and fervor of festivities, the pets sometimes take a back seat, to be realized later(by the master) with much regret on missing out on a faithful friend. You could help out your friend who has a pet dog, by making homemade doggie treats and deliver it at her doorstep as the perfect holiday food gift. Well, her dog would certainly  be thrilled enough to grovel and give you the 'licking gratitude'.

•    Recipe kits : Recipe kits are good start-ups for the festive season, which help you add that touch of variety with ease. Recipe kits are multi-cuisine and multi-cultural so that rarest of  spices or that sub-continental seasonal veggie, which may otherwise be unavailable, will be neatly packaged in such kits. Kimchi, Dashi, ricotta, granola, or an Indian dish, whose ingredients get nicely 'decked' up in an attractive jar to hand you one of the best holiday food gifts for your friend.
The 7 suggestions for non-sweet holiday food gifts described above will help you tide through the gift rush during the ensuing holiday season. Are you feeling the holiday mood setting in?
Photo courtesy : slashfood.com
7 Suggestions For Non-Sweet Holiday Food Gifts