The Most Fattening Holiday Drinks To Avoid This Festive Season

23 Dec 2010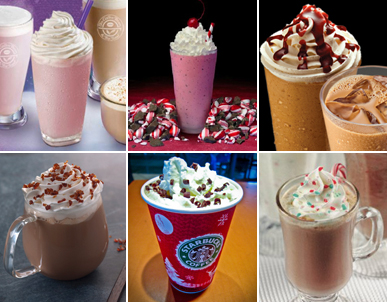 Weight gain after the holidays is a common occurence and very difficult to fight. But sometimes it's actually the fattening holiday drinks that seem to do us more harm than the food.
It's helpful to know which specific holiday drinks to avoid at parties, or how to make them healthier. So let's go over some of the most popular holiday drinks and what we can do to  save our waistlines!
Chocolate Martini  
This frothy and innocuous looking cocktail is particularly high in calories, due to all that cream and sugar. The alcohol also increases your appetite so you end up packing in more calories as you eat more. Replacing the rich cream with skim milk will lessen the calories. Also, use artificial sweeteners instead of sugar.
Eggnog
Eggnog is a classic holiday drink but it's also bad news for your diet. Bourbon, butter, egg yolks, cream as well as heaping amounts of sugar make it positively lethal for your health. Try to go easy on the calories by substituting healthy alternatives like fat free products and rum extracts for the usual ingredients.
Rum Punch -
A traditional concoction of Rum and a variety of fruit juices mixed with ginger ale and grenadine. Including healthy fruit juices and sugar free alternatives will definitely help you to stay in shape even when sipping this drink.
White Rusian
This vodka cocktail is a staunch favorite at parties. Use skim milk to make the cocktail healthier without sacrificing the frothy and creamy layer.
Shunning the most fattening holiday drinks may not be possible all the time, especially when you're celebrating. However, be wary of drinks filled with cream or full of sugar, use substitutes liberally, and opt for drinks topped with fresh fruit slices and nuts instead of candy, chocolate or cream.
Image Courtesy: nagonthelake.blogspot.com
The Most Fattening Holiday Drinks To Avoid This Festive Season