Top 5 Forgotten New Years Food Traditions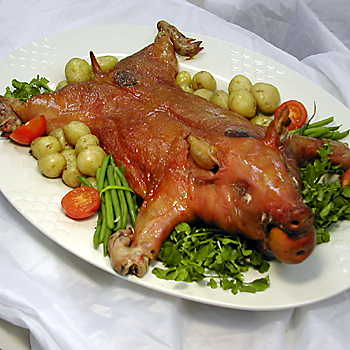 With  New Year's eve knocking on the doors, everyone is busy finding out the best and newest way of celebrating. In the quest of finding modern foods, traditional foods are losing their sheen, so I have picked up the top 5 forgotten  food traditions  and their importance on New Year. Many countries have their lucky food on this list  as eating such an item on New Year is believed to bring in good luck.
We will now have a look at the New Year food traditions and find out their importance.
Pig symbolizes prosperity. The way this animal walks holds great importance. The rich fat content of pig also signifies progress and wealth. It is an important New Year food in US as well as in Austria, Spain, Hungary, Cuba and Portugal; all these countries dine on roasted piglet on the New Years day.
Like turkey is for Thanksgiving, fish is for New Year. Cod, herring, carp and many more fishes are a part of the New Year tradition. Boiled cod, dried salt cord, sea food salad and many more recipes are enjoyed in various countries. All have the same belief; fish bring good luck so eating a fish dish on New Year would prove lucky for them.
Legumes symbolizes money or wealth. They appear like coins after swelling and cooking. Eating legumes with pork is a New Years day ritual in Germany while Brazilians eats lentil soups on their first meal of New Year day.
In Spain eating 12 grapes at midnight while the clock strokes 12 is a tradition. Ideally one should finish eating all 12 grapes before the clock stops stroking. 12 grapes symbolize twelve months of the year and it is believed that a sour grape indicates a rocky month.
Green vegetables like cabbage, kale, chard and collards are important New Year foods because they resemble folded money in their shape and color. These vegetables symbolize fortune and the more you eat them the more fortune you will receive.
So if you too want wealth and prosperity  this New Year, then follow your peers and dine on some traditional New Years recipes taken especially from the New Years food tradition list.
Image Courtesy:       kerfuffles.blogsome.com 
Top 5 Forgotten New Years Food Traditions