Don't Forget Your Canines - Christmas Treats For Dogs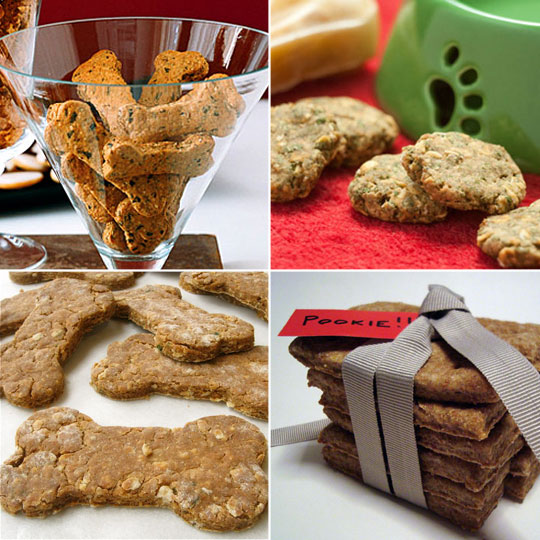 Christmas is all about sharing and spreading the message of love to family and friends. As man's best friend faithful as ever, dogs should be treated specially too during the festive season. So this Christmas, live up to the theme of generosity and love with these "Christmas treats for dogs."
Bachelor dog treats:  With cornmeal, peanut butter, chicken stock, honey, whole wheat flour, eggs, all purpose flour that go into the making of these cookies, shaped as a dog bone, you don't need a reason for your companion to come bounding up to you and grab that packet of cookies.
Best breed dog biscuits: What better way than to choose from the special Christmas treats for dogs? You can use premium whole wheat flour, rolled oats, fresh or dried parsley, dry milk, peanut butter, eggs to make the dough. Take a cookie cutter, to cut out a shape of your choice (dog-bone or walnut sized cookie) and bake. This treat will simply make your canine turn head over heels for you.
Carob crunchers: If your dear pup is allergic to wheat then this Christmas treat is specially designed for it. Along with rice flour, cinnamon powder, vanilla extract, which goes into making the dough for the cookies, you can also add a topping of carob seeds to make a tasty treat for your dog.
Cinnamon bun bites:  Add the spice of cinnamon and the fruitiness of pecans, to the sweetness of honey and create this biscuit as one of the best Christmas treats for dogs, and well for their human friends as well, because the flavor is simply irresistible.
Fresh breath dog biscuits:  Into the storehouse of nutrients including rolled oats, wheat germ, cornmeal, whole-wheat flour, eggs, butter, goes a breath of fresh air in the form of parsley and mint leaves.
Home-made Christmas doggie treats:  How about the flavor of bacon dashed into the Christmas treat for dogs? Won't it make the dog biscuits even more tempting? With eggs, melted bacon fat, wheat flour, wheat germ making the base; you cut out the dough and bake, thus, treating your pet to a fanciful, flavorful Christmas treat.
Flax seed dog biscuits:  Crunchy and chewy flax seed dog biscuits can serve as the ultimate Christmas treat for dogs. It takes bread flour, whole wheat flour, brown sugar, wheat germ, eggs, powdered dry milk, and flax seeds to make this 'doggy' favor.
Nutty bacon dog treats: There is no reason why your pet won't go nuts over this Christmas treat. With ingredients such as bacon, maple syrup, soy flour, natural peanut butter, wheat pastry flour, there is the flavor of bacon wafting through the nuttiness of peanut butter. So, no surprises if your pet starts by sniffing at them first.
Peanut butter and banana dog treats: Well, if you can morph bones into bananas then your pet is sure to go bananas over this treat. With peeled bananas, oat flour, rolled oats, dried parsley, peanut butter, beaten eggs, these coin-shaped biscuits are sure to have your dogs wagging their tails after you.
Photo Courtesy: thekitchn.com
Don't Forget Your Canines - Christmas Treats For Dogs