5 Cookies You Must Make This Christmas

21 Dec 2010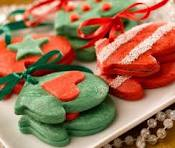 Have you started baking your Christmas cookies yet? The holiday season is here and with that almost every household is geared to bake Christmas cookies. There are numerous types of cookies that you could make and there are hundreds of recipes that you can find to make them, but let me give you a list of 5 cookies you must make this Christmas to pleasantly surprise your family and friends.
Christmas Cookies You Must Make
Spicy, Chewy Mollase Cookies - As the name suggests these cookies are spicy and chewy and have great flavor. They are beautiful to look at and are one of the best ginger cookies that you would have come across. The recipe calls for a lots of spices such as cinnamon, ginger, black pepper, cloves and cardamom. If you are a ginger person, add candied ginger for that extra zing.
Chocolate Truffle Cookies - These cookies are ideal for chocolate lovers since they are the most indulgent chocolate cookies around. Add chocolate chips to the original chocolate cookies recipe and to make them look and feel like chocolate truffle, roll them in powdered sugar or unsweetened cocoa and Truffle cookies are ready.
Butter Cookies - These are the classic variety of Christmas cookies and in most households these are the staple cookies made during this season. Add a slightly different touch to the usual butter cookies this Christmas. The easiest variation you could do is to roll cookies into a log and slice-and-bake them into rounds, but you can also shape them with cookie cutters or press the dough through a cookie press for spritz cookies. Add toasted nuts, chocolates chips or orange zest to bring about the festive flavor.
Swirled Holiday Snowball Cookies - These cookies are a variation to the traditional snowball cookies. The basic ingredient in these cookies is walnut, which gives them a buttery flavor. Add colorful sprinkles to give them the festive look and add white chocolate chips to bring about vanilla flavor.
Decorated Cookies - It's a lot of fun to tastefully decorate Christmas cookies and dress them up festively. A great cookie plate should have beautifully done up cookies. Bake simple cookies like buttermilk cookies and gingerbread men and  top them up with royal icing. Make a good batch of frosting and creatively decorate each one.
Try out these 5 cookies you must make this Christmas and rest assured that compliments would follow. Merry Christmas!
Image Credit: west-bendlibrary.org/ ;  
inspiredbyhappiness.tumblr.com/ 
5 Cookies You Must Make This Christmas