Top 8 Christmas Gift Baskets Ideas
20 Dec 2010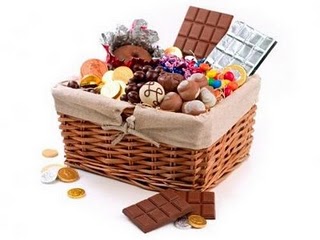 If you are looking for some great Christmas gift basket ideas, then look no further! We've got the Top 8 Christmas Gift Basket ideas all listed right here for you! Christmas tends to be about giving and receiving gifts. The Christmas gift basket ideas recounted below were inspired by some old and new ideas that we've gathered and narrowed down.
Classic Chocolate Gift Basket: This is one of the best, yet most simple, Christmas gift basket idea.  You can buy a festive metallic box and decorate it with silk or crepe paper and add: 250g of any fresh Belgian chocolate, chocolate bars from some reputed brand such as Cote d'Or, a bottle of chocolate liquor, a box of cocoa, and box of edible fruits and flowers decorated with flavored sugar. It's sophisticated, yet simple enough to put together fairly last-minute!
Wine Christmas Gift Basket: This is one of the fancier Christmas gift basket ideas since wine is considered to be symbolic of elegance and sophistication. You can buy a regular leather or vinyl basket from the market and fill it with: Chocolates, a professional corkscrew, a wine tasting set, red, rose and/or white wine bottles (adorned with matching ribbons), a box of branded wine jellies, cheeses, and any exotic wine club membership coupon (i.e. Wine of the Month Club membership).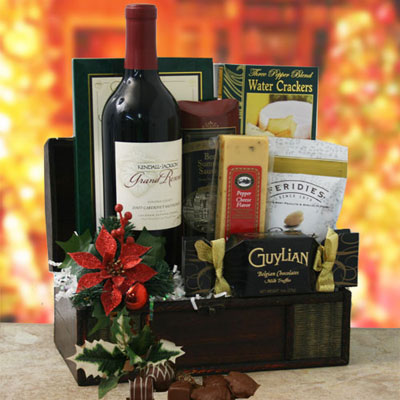 Spanish Christmas Gift Basket: A Spanish Christmas Gift Basket is one of the elegant ways of giving back to the friends and family members who have always been there for you. You can buy metallic basket and wrap it with green and red crepe paper (or a simple woven basket will also do) and add: your favorite box of Christmas cookies, a bottle of Ponche (cream based liquor), a bottle of "Sangre de Toro" wine, chorizo, a bottle of Spanish olive oil, a pack of "Manchego" cheese, a Serrano ham or negra ham, and almond turrons. You can add or discard the ingredients per your personal preferences.
540270-top-8-christmas-gift-baskets-ideas.6a013487d45991970c0162fce66b6d970d-800wi
 
Personalized Fortune Cookie Gift Basket:  This is one of the novel ideas for preparing Christmas gift baskets. You can buy any sort of gift basket or decorative box and add giant Chinese fortune cookies with personalized messages. To add a special holiday feel to the cookies, you can dip the giant fortune cookies into dark, milk, or white chocolate (add red and green food coloring to white chocolate to make it even more Christmassy).
Personalized Christmas Cookbook: This is one of the most personal Christmas gift basket ideas for you to give someone special. There are plenty of websites that let you customize a cookbook picking you own recipes, photographs and other personal touches to make this gift especially special. Create a custom cookbook and add it to a gift basket with different cooking utensils such as: spatulas, measuring cups and spoons, an apron, some of your favorite mixes, pot holders, etc. Wrap in cellophane and tie with a festive, holiday ribbon!
Personalized Steak Brands: Until now we have told you great ideas about Christmas gift basket ideas for wine lovers, chocolate lovers, and cooks, but there is also a great Christmas gift basket idea for meat lovers! Not only can you gift different kinds of meat, but now some websites offer options for branding steaks with your initials! Gift their favorite meats with other meat-related or BBQ items such as a meat lovers cookbook, tongs, BBQ utensils, etc.
Chocolate Spa Christmas Gift Basket:  You can make your own chocolate flavored spa Christmas gift basket by adding : a chocolate colored towel, chocolate scented body lotion, chocolate shower gel, chocolate colored body sponge set, body exfoliating accessories, bottle of chocolate essence water, and top it off with a chocolate bar! You can design the box by packing it with chocolate color silk paper or tissue paper and tie it all together with a brown ribbon and pinecones.
Gourmet Christmas Food Gift Basket:  You can present this unique Christmas gift basket to your food-loving friends. You will need a wooden wine case to make this gourmet Christmas food gift basket extra special (or just use a basket like the one featured below) and decorate it with straw, silk or crepe paper and add: fresh French foie gras, caviar, three bottles of red, rose and/or white wine, a pot of onion confit, duck confit, and truffle oil. This is just a suggestion, as you can create personalized gourmet Christmas food gift basket by incorporating your friends' favorite foods.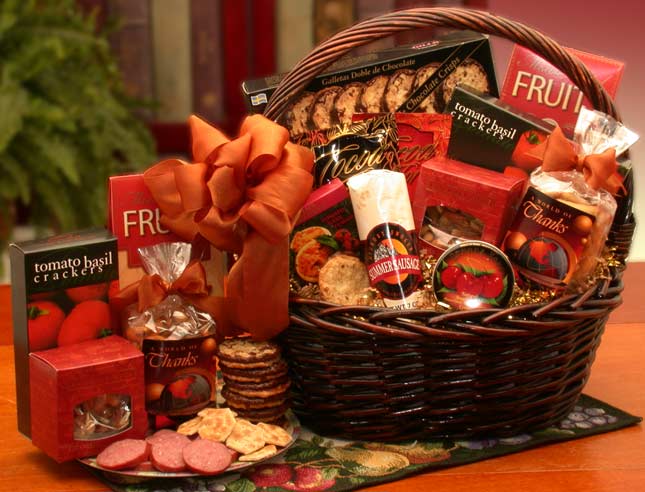 Image Courtesy: 2.bp.blogspot.com
Top 8 Christmas Gift Baskets Ideas