Christmas Dinner Recipes From Around The World
17 Dec 2010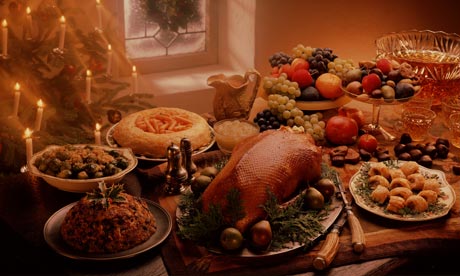 IFOOD brings you Christmas dinner recipes from around the world. As you all know that Christmas is around the corner, the time has arrived for planning the menu.  Instead of the regular Christmas dishes, you can try preparing different dishes enjoyed by people all over the world.  IFOOD brings 10 most sumptuous Christmas dinner recipes enjoyed by people across the globe.
Bagatelle (French-Canadian Trifle): The bagatelle is an out and out Canadian dish, which was introduced by French settlers.  You will require milk, sugar, cornstarch, egg yolks, and vanilla extract to prepare the custard. And a pound cake, strawberry jam, fresh raspberries, heavy cream and sugar to prepare the trifle. The bagatelle is served fresh with the assortment of fresh fruits, custard and a neat drizzle of Marsala.
Pea Soup: Normally pea soup is enjoyed throughout the world. This is one of the most commonly savored Christmas dinner recipes across the world. The pea soup is typically made from dried peas. Different variations of the pea soup are served during the Christmas dinner across the globe. If you are savoring this soup in Canada you will find herbs and pieces of pork in it. In Germany you will find the pieces of meat sausage, bacon or Kassler in the soup.  At Netherlands you will find the green split peas, porks, celeriac, onions, leek, carrots and potato to prepare this soup.  In France maple syrup is used to flavor the soup.
Janssons Frestelse:  Janssons Frestelse roughly translates to Jansson's Temptation.  This popular potato dish appears on the dinner tables of Swedes during Christmas and other special occasions.  You will require potatoes, onion, ansjovis, salt and black pepper, butter, bread crumbs, and heavy cream to make this dish. Jansson's Temptation is served with main dish or side dish. It is often served with cheese, beer, and bread.  It is mostly eaten along with gravlax, pickled herring, red beet salad, and smoked salmon. You can serve it hot, or chilled as per your preferences.
Rice Pudding:  Rice pudding is the popular Scandinavian Christmas dessert. As per the popular Christmas tradition the almond is hidden in the rice pudding.  In Sweden and Finland people believe that the one who gets the almond will be married the following year, whereas in Norway, Denmark, Iceland, and Faroe islands the person who gets the almond is given prizes. In countries like Denmark, Norway and the Faroe Islands, rice pudding is served during the Christmas lunch, whereas in Sweden and Finland it is served few days before the Christmas Eve.
Pork Pie: Tourtiere is a typical French-Canadian dish enjoyed by generations of French–Canadians living in Quebec area of Canada. Tourtiere is served during Christmas dinner, Christmas Eve and New Years Eve. Normally beef, veal, and minced pork, and potatoes are used in the preparation of this pie. Pork pie is one of the slow-cooked pies prepared with potatoes and different types of meat.
 Hangikjöt:  This is most popular of all Icelandic Christmas dinner recipes. It is smoked mutton or lamb which is served cold or hot in slices. It is mostly teamed with potatoes in béchamel sauce, green peas, or on thin slices of bread. Icelanders love to eat it during other main holidays too.
Vanillekipferl: These Austrian vanilla crescents are enjoyed by Austrians on all special occasions but it is an integral part of the Austrian Christmas dinner recipe. It is prepared using ground walnuts and sprayed with confectioners' sugar.
Christmas pudding: Christmas pudding or plum pudding is served throughout England and Ireland. The Christmas pudding is prepared with dried fruits, and nuts. It is generally dark in appearance which is  a result of dark sugars and black treacles used in the desserts.  The pudding is moistened with juices of citrus fruits, brandy and alcohol.
Linguine with Lobster Sauce: What about tasting subtle lobsters dipped in a fresh tomato sauce served with a dash of cream and sherry over a bed of linguine isn't it amazing! This is one of the popular Christmas dinner recipes from the land of Pasta – Italia.  It is an out and out festive dish which is also enjoyed during other special occasions.
Philippine-Style Brioche: These typical Filipino Christmas treat is normally served as a breakfast item.  Normally pork lard is used in the preparation of this fluffy sweet-savory breakfast rolls. But now pork lard has been replaced by butter.
Image courtesy: highere.com

 
Christmas Dinner Recipes From Around The World