Black Eyed Peas New Years Tradition

14 Dec 2010

Eating black eyed peas is a New Years tradition and it is believed that it brings in lot of good luck and prosperity. This tradition has its origin in the southern states where even today new year is ushered in by consuming black eyed peas. It is the first food to be eaten on a New Years day and this practice dates back to civil war era.
Tradition of Eating Black Eyed Peas
There are quite a few customs surrounding black-eyed peas: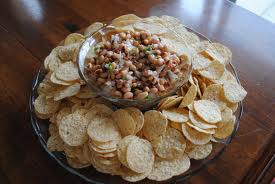 It is served with a green leafy vegetable such as cabbage, so that the peas represent the coins and the greens represent paper money, while cornbread when served with peas and greens represent gold.
It is believed that one should eat at least 365 black peas to cover the entire year.
Eating stewed tomatoes with black-eyed peas is considered good as it brings wealth and good health.
Some people add a shiny penny or dime to the pot of black-eyed peas just before serving. Whoever ladles up the coin is the luckiest.
Popular Ways of Serving Black-Eyed Peas on New Years Day
Hoppin' John: In Southeast America on the first day of the year, lunches usually consist of a pot of black eyed peas, a pan of cornbread and cabbage. In South America, the peas are typically cooked with a pork product for flavoring (such as bacon, ham bones, fatback, or hog jowl), diced onion, and served with a hot chili sauce or pepper-flavored vinegar.
Black-Eyed Pea Caviar: In Texas, there is a casual alternative to serve the peas with tortilla chips.
Black-Eyed Salad: This is usually served as a side dish along the main menu. The peas are boiled and seasoned with various salad toppings.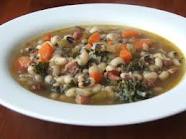 Black Eyed Pear Soup: It is a perfect appetizer for New Year's Eve. The soup uses fresh or canned peas combined with a variety of other healthful vegetables.

 
I just think we should carry on the tradition of the peas. I hope you'll enjoy some black eyed peas and the New Year brings you good fortune!
 Image Credit:kathdedon.wordpress.com/ 
isabelleathome.wordpress.com/ ; 
frommykitchentable.wordpress.com/ 
Black Eyed Peas New Years Tradition