Best Food For New Years Eve Party
14 Dec 2010
Wondering what would be the best New Year's eve party food. Here are a few suggestions you may want to try out to make the seamless transition from one year to the other without stressing over  party essentials.
Best Foods to Serve this New Year's Eve
Simple Snacks as New Year Food: If heavy food is not on the menu and you just want
to serve up plenty of simple snacks and appetizers you might have plenty of takers for it. Ideally mini pizzas, nachos with salsa, vegetables and dip, pigs in a blanket, spicy chicken wings and an assortment of cheeses are good and also considered happy food without the stuffed feeling of a heavy dinner. Some may prefer the informal appetizers to traditional good luck food that are served in several regions of America or the rest of the world.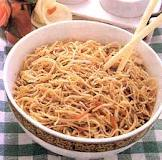 Traditions for New Years food: New Year food traditions vary all around the world but is primarily eaten for merriment and prosperity. Some of the foods chosen are an indication of wealth and happiness. Eons back 'pork' was a delicacy and eating black eyed pea indicated wealth.
Black eyed peas are the staple food of Southern United States. Since the legumes are compared to coins it meant assuring wealth to its recipient.
Pork was eaten as ham with peas or 'hog jowls' if the year was not too prosperous.
Asian countries go for the long noodles with shrimps, snow peas and carrots. Stir fry veggies on the side would be good too.
Hungarians and Austrians give each other treats of sculptured marzipan pigs as a symbol of prosperity. Bean soup is very popular here each beans an indication of coins or wealth.
Americans of German or Polish descent eat herring which is pickled and wrapped around onions at the stroke of midnight while those of German descent prefer Sauerkraut and beef with some cabbage for wealth or Cole slaw.
Italians go for legumes such as lentils for New Year food, which symbolizes money since they are green.
Of course the Champagne, beer, wine and beverages are not to be forgotten. What is a New Year Party without the bubbling fizz? Since some of the best foods for New Year's  eve party have been outlines, the fun and merriment that accompanies the ushering in of a new year cannot be understated.
So a Happy New Year party to all!
Image credit: xiabanle.wordpress.com/ ; terracebistro.wordpress.com/tag/mini-pizza/ ; cookbookspecial.wordpress.com/ ;
Best Food For New Years Eve Party